Reply
Topic Options
Mark Topic as New

Mark Topic as Read

Float this Topic for Current User

Bookmark

Subscribe
Highlighted
Re: Uncharted TV Submissions
[ Edited ]
---

IzunaShisui wrote:


This message is to someone who thinks he is funny by submitting the most BORING videos ever.

It concerns: Uncharted Thoughts: Tau

Uncharted Thoughts: *fill in weapon here* ( I forgot what weapon it was about cause it was so boring. )

Hereby I hope to have notified you as these videos are as boring as they get. 1950 cartoons are even better.

Please STOP creating and/or submitting them.

And some advice for the future: Don't become a teacher, children with ADHD will even fall asleep when you talk.

Thank you.

---
I'm going to keep making vids, thanks.
---

Hielke6991 wrote:


---

Hielke6991 wrote:
Those Uncharted thoughts videos have extremely low volume, I can't understand a thing of it. I could put it louder but then the sound effects and background volume are too loud. So I wouldn't know. Might check it on youtube though.

---

Well I watched it on youtube after pluging in speakers and turn its volume to the max.

The documentary style was funny, but some of the information was quite useless or even results in to slower kills and giving the enemy more chances to escape. Especially "The Finisher" I don't quite understand why you would shoot an enemy to critical health and then shoot the tau instead of the last M9 bullet or last 2 M9 bullets. It takes longer to kill an enemy that way and the Tau is harder to aim with so the enemy has a bigger chance of escaping then when you just shot the last bullet or 2 bullets with the M9.

---
Audio is an easy fix

Well that episode's whole focus was on the Tau Sniper and not about the most effective ways to kill an enemy. The "finisher" is just another possible option of how to use the gun. I use it all the time.

Thanks




Uncharted & The Last of Us Tutorials

www.youtube.com/user/SyncingShip
Re: Uncharted TV Submissions
Re: Uncharted TV Submissions
---

IzunaShisui wrote:


This message is to someone who thinks he is funny by submitting the most BORING videos ever.

It concerns: Uncharted Thoughts: Tau

Uncharted Thoughts: *fill in weapon here* ( I forgot what weapon it was about cause it was so boring. )

Hereby I hope to have notified you as these videos are as boring as they get. 1950 cartoons are even better.

Please STOP creating and/or submitting them.

And some advice for the future: Don't become a teacher, children with ADHD will even fall asleep when you talk.

Thank you.

---
Someone's being upset here.
I wonder how you would react if you knew that Naughty Dog itself asked PeteX19 to do more of these Uncharted Thoughts episodes, since "they love it". Textual and exact words.
Getting feedback is always a good thing for improving a work, but looks like you've lost some basic lessons of respect for someone who is clearly spending a lot of days for helping the community. And your feedback doesn't help at all.
Re: Uncharted TV Submissions
ParadOxx Video
Hello Eric,
This is my new Editing video
can you add this on Uncharted TV please ?
Thank youuuuuuuuuu bro
GRAPHIC DESIGN & VIDEO EDITING

Welcom to my Word !

Youtube : www.youtube.com/OfficialParadOxx
Facebook : www.facebook.com/ParadOxxVideo
Twitter : @Paradox8
Re: Uncharted TV Submissions
Hey Eric,
About 2 weeks ago I started a new edit series for the Uncharted 3 community, this is the 2nd episode. This is also my submission for UCTV.
Thanks!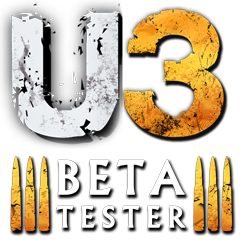 Offline