Reply
Topic Options
Mark Topic as New

Mark Topic as Read

Float this Topic for Current User

Bookmark

Subscribe
Highlighted
Co-op brethren and sisters - Is it me..
[ Edited ]
4 replies 259 views Edited Mar 15, 2013
or has Arena gotten harder in recent months? Hard now seems darn near as difficult as Crushing used to be but maybe it's just in my head.
For me, an example would be:
Armored Shotgun enemies now routinely melee you at the same time they blast you (which is kind of comical since the animation has the shotgun pointed at the sky as the blast from it and the strike from the gun butt simultaneously rock your body)...if it doesn't put you down right away, then darn close. Honestly, I don't remember that happening until recently (say, starting late 2012) but then again, I've been playing a lot more crushing lately so maybe I just never noticed it before. Or maybe it's a form of coop lag and the inconsistent animation is the result of the initial shotgun blast being blended with the follow up gun butt strike, who knows.
An informal poll of my friends says yes but I'm wondering what the wider community thinks. I'd be interested in knowing whether or not you believe it has gotten more challenging recently and examples of anything you've noticed.
Re: Co-op brethren and sisters - Is it me..
Mar 15, 2013
This OP gentleman has been around for a very long time now.
His SAS has hidden mods didn't you know?
It has super scope and can shoot you from the other side of the map
It has one shot downability
One shot killiability, no need to get downed, straight kill
Militia Mod (see vid)
SAS Punch like you mentioned
Through wall shots
Sadly, once you pick it up, it is totally useless as all these hidden mods disappear
Last Guardian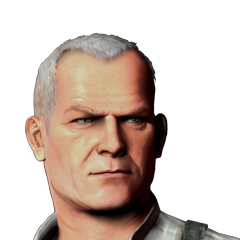 Registered: 01/04/2012
Offline
10262 posts
Re: Co-op brethren and sisters - Is it me..
Mar 15, 2013
The armored shotgun guy is from KSA. Make of that what you can.
Hardcore Mode and Raffica enthusiast; former CEO of Obey Manufacturing, Los Santos, SA; Second Wave Agent specializing in medical training and CERA-JTF EMT
Re: Co-op brethren and sisters - Is it me..
[ Edited ]
Mar 15, 2013
Hahahahahaha. Watched the video...SAS guy shoots more than 40 times in the 43 seconds...with only the briefest pauses. I want that magazine!
Have to admit, I've never gotten an AI enemy that tough in Syria or any other coop mode!