Reply
Topic Options
Mark Topic as New

Mark Topic as Read

Float this Topic for Current User

Bookmark

Subscribe
Highlighted
Prologue Error and Cutscene audio and visual freeze
7 replies 641 views Edited Jan 14, 2014
Just bought tLoU today (disk version), installed patch 1.05 and was starting the game, when the first audio stutters began in the main menu. After that, the very first cutscene got audio stutter and the cutscene itself skips frames. After this scene, the next part (picking up the phone) made the character glitch out, skipping forward and backward at frames. The gameplay part after it works fine, but as soon as the next scene takes on, everything gets back to the stuttering/freezing. As soon as I get into the car, Joel and Tommy stand in the car like mannequins, audio stops and I can only move my character around. This can't be helped.
I've done the following things to try to fix it:
- Clean the disk like a madman
- Delete every single data from tLoU and start it up again
- Repeat above, but without the patch
- Above, without autosave selected, with and without patch
- Flip the Ps3 90 degrees (so it stands up)
None of these seem too work. The only other thing I should do according to the internet, is changing my HDD, but I doubt that would work, hence every single other game does work, so I don't believe it has anything to do with my console.
Is there any other way I could fix this? It would be a shame if I just wasted some money on a game I can't play.
Lombax Warrior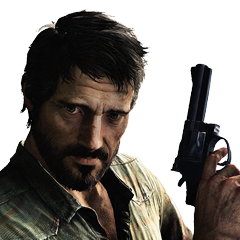 Registered: 01/16/2014
Offline
168 posts
Re: Prologue Error and Cutscene audio and visual freeze
Feb 8, 2014
I'm not 100% sure what your problem is, is your disc scratched ? Blu-ray Discs are pretty resistant to marks and scratches but it does happen and even the smallest mark can make the game freeze, jump, stutter and be unresponsive... Also you could try rebuilding your database on your ps3 as you could have a corrupted file somewhere that's conflicting, there's plenty of tutorials on how to enter safe mode and the options that are then available, but be careful not to format your ps3, unless you absolutely want to, as that will wipe everything, including your save files. Good luck
Re: Prologue Error and Cutscene audio and visual freeze
Feb 12, 2014
I went through a similar problem, when arriving in the chapter "In The Woods" running multiple zombies passed by a truck and found a port, enter that port when the screen goes black, the audio is normal sound of the forest, but nothing happens, I waited a while, nothing!.
I tried everything I saw on the internet, even take my hd and run the game by installing the flash memory on my Playstation 3 Super Slim. Do not solve. I did everything you mentioned too. Face the problem is not our video game, but the game The Last Of Us, is having some problems, affecting many players. The sad thing is that I get no response from Naughty Dog, lack of respect from them.
Re: Prologue Error and Cutscene audio and visual freeze
Feb 18, 2014
The OP describes the EXACT problem I have!
Every other game I have works... the only game that doesn't work is this game.
I haven't tried patch 1.06 yet - doesn't anyone know if the latest patch fixes these issues?
The only thing I haven't tried is returning the game for a new disc... which I may do because evidently there are people that have no issues whatsoever.
Re: Prologue Error and Cutscene audio and visual freeze
Feb 19, 2014
Don't know if this will make a difference. It did get my copy of Left Behind working... Try setting the PS3 display setting to 480p if you were doing something higher. I was using 720p and when I made 480p the only option, things started to work. Maybe the game just found it easier to render smaller pages.... I spent two days before this trying to get Left Behind to work.... 3+ hours playing time in and no issues. The game saves even work too....
Re: Prologue Error and Cutscene audio and visual freeze
Feb 20, 2014
An update - long story short but I have a brand new game disc as of today, I deleted all previous game data from the ps3 - restarted - reinstalled with new disc, downloaded the 1.06 patch and....
....the exact same glitches. It's almost like I used the old disc by accident.
At first I was thinking it had to be my disc - but now I'm think it has to be a setting somewhere on my ps3 that's causing the hiccups and lag etc.
I'll try the 480p suggestion but I have a feeling it's something else.
The audio cuts in and out even when it's in the main menu section....where you see the window and drapes flowing....
Re: Prologue Error and Cutscene audio and visual freeze
Feb 24, 2014
480 P didn't work....
I'm at a loss.
I'm going to return the disc for another one (hopefully) and see if that works.
Some other forums etc have users saying they had the problem then upgraded their hard drive and the problem was resolved.
Not sure if I'm there yet... the ps3 is only a few years old.
Will update this thread if I solve the issue.
Re: Prologue Error and Cutscene audio and visual freeze - SOLVED FOR ME
Feb 24, 2014
Well... I can't believe it...
So I removed my PS3 hard drive and replaced it with another laptop hard drive.... I then went to the Sony PS3 update site and downloaded 4.55 to a USB
Started up the PS3 - formatted the drive - loaded the 4.55 system update - and reconifgured the newly installed drive.
Once all setup - I installed TLOU with the latest patch....and it worked - without a hitch!!
Boggles my mind as to why this would work!!!!
What I plan on doing now is putting the old drive back in, backing up about 33 gb's of game data - installing the new drive.
I'm still very surprised this worked.... but it did... upgrade your hard drive!