Reply
Topic Options
Mark Topic as New

Mark Topic as Read

Float this Topic for Current User

Bookmark

Subscribe
Highlighted
A Beginner's Guide to The Last of Us Factions
22 replies 65531 views Edited Jul 26, 2013
A Beginner's Guide to The Last of Us Factions
I'll start off by stating that I've played a ton of multiplayer games in my years of gaming and this one has really kept my interest. Bravo to the Naughty Dog team for developing a fantastic, engaging, and amazingly balanced experience. I just can't get enough.
There is a lot of information floating around about this mode and recommendations that vary greatly from one to another. The goal of this guide is to give new players who are going solo into Factions a leg up based on my experiences with 20+ weeks clocked. It will help keep you alive, get you parts/supplies, and not annoy your teammates by playing poorly. Here are the basics:
Facebook Integration
I'm usually very wary of connecting my Facebook account to anything due to my paranoia that all my actions will be posted on my wall for all to see. Luckily with Last of Us, no information is transferred to your account at all. I highly recommend linking your account as it will fill your band of survivors with your friends and add some extra weight to the multiplayer campaign.
Choosing a Faction
This option is purely aesthetic to you, and only you. What that means is depending upon whatever faction you choose, the game will always display people on your team as whatever faction you are, and the enemy as the other. It takes no account of what faction other players chose. So if you picked Hunters and your friend picked Fireflies, you will still be able to group without issue. Ultimately, pick whatever you want.
Getting Started
At the main multiplayer Factions screen you will have a number of options at your disposal. There are options to customize the look of your character (which you will only have a couple options open for at first) as well as creating your own builds right off the bat. I recommend not creating your own builds for quite awhile for a couple of reasons:
You will only have 8 total loadout points to utilize starting off (10 if you pre-ordered with Gamestop) and you will not have the better/more powerful skills unlocked yet. Wait on this. Trust me.
The pre-made loadouts that Naughty Dog has graciously provided for you are FAR better than what you can make starting off. They all utilize 11 loadout points and include skills that you won't unlock until you've clocked a number of weeks in multiplayer. Those pre-made loadouts are there for a reason so use them.
Experimentation is definitely something I highly encourage in this game as there are a plethora of great loadout combinations to work with. My suggestion is to wait until you have at least 10 or 11 loadout points available to work with because otherwise you are intentionally putting yourself at a disadvantage.
Starting a Match
You have two choices here:
Supply Raid – This mode pits each team (4v4) against each other with a pool of 20 lives. The first team to lose all of their team lives loses the match. Classic deathmatch.
Survivors – This mode has each team (also 4v4) in a no respawn deathmatch split into rounds. The team that kills off all four players of the opposing team wins the round. The first team to reach 4 wins (best out of 7 matches) wins the game.
My recommendation would be to start off with Supply Raid as the match is one long consistent game and allows you a better chance to explore the maps and learn where the locations of the main item boxes are. Ultimately, it doesn't matter so try them both and figure out which style of play suits you better.
Choosing a Loadout
As I mentioned before, I would highly recommend using one of the pre-made loadouts provided. Your initial reaction will probably be to use the attack based builds with a bow or rifle, but my biggest suggestion is to start off using the Support build. Here's why:
The Support build has Crafter 2. This perk enables you to not only craft items faster, but also give away a gift for every 3 items you craft. Giving away gifts is a great way to earn quick parts and support your team with more equipment.
This build also has First Aid Training 2 which gives you the ability to heal teammates that are hurt. Any time you see a colored symbol of a circle with a + sign in it next to a team member's name, that means that particular teammate is hurt. Go up to them and hold X until that symbol turns green and ultimately disappears. You will heal them as well as earn a lot of parts in the process.
Factions heavily awards support-based skills and Crafter 2 and First Aid Training 2 are two of the best available. If you use them consistently, your team will love you for keep them healed and you'll love yourself for all of the parts you earn.
Choosing a Single-Use Perk
Starting off, you won't really have any of these perks to use. As you continue to play you will earn a lot of these so there's no need to hoard them. You will get new ones quickly enough. However, I would recommend saving the better ones (i.e. ones that level up your weapons to start off or grant you additional parts for the match) for when you need them during missions. The perks that grant cheaper armor and ammo prices are good all-around perks for normal games.
In-Game Etiquette
When the match starts, your first priority is to sprint towards the nearest item box (shown on your minimap as a white circle). The rest of your team should follow. Once you pick up all of the items the box provides, wait to see where the majority of your team starts heading off to and follow them. Most likely it will be towards another item box which is always beneficial.
Teamwork is key in Factions and you can't work as an effective team unless you stick together. I see too many people run off by themselves and then immediately get killed across the map to not only accomplish nothing, but also remove a respawn from our pool of team lives. Not cool. Plus if you are using the Support build I recommended, you can only take advantage of the skills on team members. Might as well stay near them, right? Even if you don't have support skills equipped, it's very helpful to be close by if a teammate gets downed so you can be right there to revive them. Not only do you prevent a death, but you earn parts as well.
Nearly everything you do in the game will give you parts so be sure to use the in-game store to use them. Whether it's spotting enemies with R3, healing teammates, or killing enemies, parts will be awarded that you can spend. You will probably want to use your parts to purchase armor right away until you get used to the flow of the game, but then I highly recommend maxing out your weapon first and foremost. A maxed out starting revolver or 9mm can be deadly at all ranges (and will last the remainder of the match as opposed to armor which will break off when hit) so do not underestimate those starting weapons. Some of my best loadouts only contained a revolver for a weapon.
Another big tip is to craft items often. Definitely craft everything that you can from picking up materials from boxes and prioritize modifying a melee weapon (2x4 or bat) first. It will net a one-hit kill so it's very important to have on hand in close quarters situations. Smoke bombs and shivs are also a great combo. An enemy dazed by a smoke bomb will be vulnerable to a shiv from any direction so it's a very effective strategy for taking out nearby enemies that are dug in. The quickest way to craft is using the D-pad and holding X on whatever item you want to create. You will know that you can craft an item when a little white wrench icon shows up at the bottom right side of the screen. Be aware that crafting shivs and modifications to melee weapons can ONLY be done through the select menu.
Another aspect of the game to be aware of is when you appear on the enemy's minimap and when you don't. The only times you will show up as a red dot to the enemy are the following: You are sprinting, you are firing a gun without a silencer, or you have been spotted by an enemy. You can also be seen to an enemy using Listen Mode if you are moving in any way (unless you have the Covert 2 or 3 skill equipped which makes you invisible to Listen Mode while crouch walking) but it's not something to worry too much about. Unless you are using Covert 2 or 3, you should mainly move around with the normal standing jog and only switch to crouch walking if an enemy is near or you suspect an enemy is near. Jogging (not sprinting) is a quick and fairly stealthy way to get around a map.
Be sure to use Listen Mode often (by holding down R2). It's an extremely useful tool at your disposal for locating enemies. I've defused many ambushes by simply going into Listen Mode and getting the jump on enemies first. The gray bar in the lower right corner of the screen indicates how much Listen Mode time you have. You can use the ability once the gauge is half full or more.
You will also find yourself in situations where there is a teammate down as well as an enemy nearby who is also down. Always prioritize your teammate. Revive him first then kill the downed enemy. Also, you should almost always execute a downed enemy with your gun or a couple kicks with Square as opposed to the special execution by pressing Triangle. Yes, it nets you a few more points by doing the special move, but it also leaves you open to get killed yourself as well as wastes time that you could be using to support your teammates. Play smart, stay alive, and prioritize your team first.
This also applies in situations where you find yourself alone amongst multiple enemies. Don't be a hero. If the majority of your team is on the other side of the map, make your way over to them as quickly as you can. Start off by jogging and don't hesitate to break out into a sprint if you start getting shot at. There have been numerous situations where I've sprinted straight to my team with enemies on my heels and had my teammates kill them all. It's an improvised ambush if your other teammates are paying attention.
When you do manage to execute an enemy that is down, you'll notice that they will drop a blue item. These are raw supplies that go directly to your final supply count after the match (as opposed to parts which are converted over). You will want to pick up every single one of these items before the match ends. They are easy to locate, as your minimap will represent them as a blue dot. These items are often accompanied by ammo as well so it's very worthwhile to pick these up. Be smart about when you grab them. Sometimes you'll have to wait a minute or two before the area calms down. You don't want to be the guy that runs out into the open during a firefight and gets gunned down picking up the dropped supplies. You can also check to see how your supply earnings stack up throughout a match by checking the bottom left corner of the screen. It's definitely helpful to know if you are tracking to reach the minimum amount of supplies for the day as you play.
The key to success in Factions is supporting your fellow teammates. I've managed to get a max population of 122 playing solo and without a mic. I could only do this by utilizing support skills like First Aid Training, Crafter, and Reviver. Other people will boast much higher numbers but they most likely played with a highly coordinated team or boosted themselves. If you're playing legitimately and solo, the above tips will net you a lot of parts/supplies.
Missions
As you continue through the 12 weeks of the online campaign, you will come across various missions that will either net you additional people to your group of survivors, or it will kill off a certain amount. The game will require you to choose what to "train" your survivors on to minimize casualties/maximize new additions. You have 3 days (or matches) to achieve as best you can the mission that you chose so definitely prioritize that first. My recommendation is to choose some of the more challenging missions in the first half of the 12 week campaign and save the easier ones for later on when the consequences of failing a mission are more severe. Keep in mind that if you choose a mission it will be more difficult the next time around so I encourage you to diversify what you pick. Never do the same mission twice unless you are certain you can easily achieve it. If you stick to this strategy you will easily make it to Week 12, Day 7 with minimal issues.
Maximizing Parts/Supplies Earnings
This next section is to help out any of the seasoned players where high population counts are eluding them. I can't stress enough that teamwork and using the support perks is the key to success, but here is a rundown of the tactics that I've used to max out earnings. The loadout that I used to reach the 122 population is the following:
- Revolver, Crafter 2, First Aid Training 2, Collector 2
You will need to first get a lifetime total of 7500 supplies to unlock the 13th and final loadout point to create this build. With that, my preference was to only go into "Supply Raid (no parties)" mode as it tended to net the most consistent results. When beginning a match, my first priority is to get to at least 2, but hopefully 3 item crates before any serious interaction with the enemy team takes place. That will allow me to get enough materials to craft 3-6 items and give out a gift or two to fellow teammates. It's a fast way to get parts early in the match and level up my revolver. To ensure I craft as many items as possible, I prioritize the following:
Upgrading a melee weapon is always the first priority (if you can).
Shivs, health kits, and smoke bombs - They utilize the least amount of materials to make so you can produce tons of these items throughout a match.
Lowest priority are nail bombs and molotovs - I only craft these if it's the second half of a match and I literally cannot craft any of the above mentioned items first. Remember that your goal is to give gifts and support your team, not get kills.
Crafting in that order will produce more items, which in turn will give you more gifts to give to teammates. Gifts are worth a lot of parts (the same as downing an enemy!) so don't skimp on giving those away.
Throughout the match, I stick close to my teammates and always jump on any opportunity to heal. Healing nets a ton of points very quickly so heal up anyone that's hurt. I will also prioritize reviving teammates and then immediately heal them up to full life. That tactic always provides a good chunk of parts.
Once I have a sizeable amount of parts, I will immediately spend them on leveling up my revolver to max (two upgrades, or 800 total parts, will get it there). Any additional parts I will use on armor and then spend the rest on ammo. The revolver becomes a force to be reckoned with once it's maxed and you can quickly down and kill opponents before they know what hit them.
This strategy (plus the extra 20% additional parts from Collector 2) worked wonders at keeping my parts/supplies earnings high and I was able to reach the coveted honor of getting my population over 120 and unlocking the Black Rancher Hat. It will also help you get your population over 107 by the end of the 12 week campaign so even after the 20% reduction in your population from the final mission (assuming you do well), you'll get the Skull Mask.
Closing Statements
I want to emphasize that the purpose of this guide is to give some useful tips for new players, specifically solo players, to get on their feet and become productive and useful in-game. I also wanted to provide more seasoned players some helpful advice on how I was able to achieve the 120 population mark who may be having trouble.
This guide is not designed to help out players that regularly play with friends in groups (as coordinated group dynamics are a whole different ballgame). Describing group tactics and coordination at that level would require a totally new guide and I've seen a ton of really organized teams dominate with various tactics. My experience has mainly been playing by myself, in the "no parties" modes, trying to get everything unlocked.

I encourage trying all sorts of different builds and loadouts to figure out what works best for you. I had a ton of fun with a Silenced Burst Rifle Covert build as well as a Sharpshooter Hunting Rifle build, but ultimately the most consistent way that I was able to get high amounts of parts/supplies game after game is the support method described above.
Good luck out there!
Re: A Beginner's Guide to The Last of Us Factions
Jul 26, 2013
I love threads like this. It is positive and builds the community. It's why I wrote a little something myself, a few days ago:
http://community.us.playstation.com/t5/The-Last-of-Us-Multiplayer/A-new-player-s-lament-and-progress...
Lol, sorry for the shameless plug. Here's to hoping new players read through these guides and advice and stick through the very steep, initial climb of this game. Factions is set up for the vet to dominate the newb, but with a little info up their sleeve, maybe we can make the experience a little less painful.
Re: A Beginner's Guide to The Last of Us Factions
[ Edited ]
Jul 27, 2013
Oh boy, I needed these kind of posts!
I got like a .20-.30ish kdr right now lol.
My other tip is mark all the opponents that can be marked. I have lvl 2 of that perk and it helps the team a lot, as it is longer and you can see what the opponent is doing once marked.
---

PeetSquared wrote:


I love threads like this. It is positive and builds the community. It's why I wrote a little something myself, a few days ago:

http://community.us.playstation.com/t5/The-Last-of-Us-Multiplayer/A-new-player-s-lament-and-progress...

Lol, sorry for the shameless plug. Here's to hoping new players read through these guides and advice and stick through the very steep, initial climb of this game. Factions is set up for the vet to dominate the newb, but with a little info up their sleeve, maybe we can make the experience a little less painful.

---
Thanks!
+============================================================+
Re: A Beginner's Guide to The Last of Us Factions
Jul 27, 2013
It all came straight from me and my experiences with the game. Let's be serious, none of those gaming sites have anything this detailed posted up (I looked and couldn't find any) so I took it upon myself to toss this up for everyone. Thanks for reading and hope you get something out of it!
foofighter2634
Uncharted Territory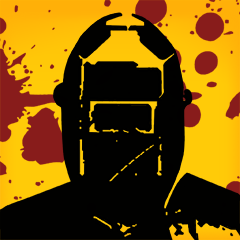 Registered: 10/17/2013
Offline
1210 posts
Re: A Beginner's Guide to The Last of Us Factions
[ Edited ]
Jan 19, 2014
Good job! If I only had that a few month ago when i was a greenhorn

*EDIT*
Oh dear... That necrobump
---
Art by
Janice Chu
Re: A Beginner's Guide to The Last of Us Factions
Feb 2, 2014
This is great!
I will try it out I've had a very mixed week playing this game, and felt that I was missing out on something, and this post explains alot.
Thanks for sharing your experience!