Reply
Topic Options
Mark Topic as New

Mark Topic as Read

Float this Topic for Current User

Bookmark

Subscribe
Highlighted
NERF THAT **bleep** BOW
[ Edited ]
15 replies 583 views Edited Jun 29, 2013
Read title. I have **bleep** **bleep** 2 shotting me threw the wall (by EVER so slightly peaking out only to the point where i see the left side of the bow leaving me NO **bleep** room to shoot them) **bleep** that bow **bleep** IT TO HELL
Re: NERF THAT **bleep** BOW
Jun 29, 2013
I want the weapons to stay the way they are. I die from the semi-auto way faster than a bow does. Snipers also have that weird peeking around the corner and they can sink some incredible shots in. Its not like the bow is incredibly easy to use. I feel everyone is using different weapons and aren't gravitating towards one weapon. It my mind that means that the game is balanced and one weapon doesn't rule them all. This game is about angles. Don't put yourself in a crappy spot or someone else will have the hit on you. When "fixing weapons" ND tends to make their MP worse. Uncharted 2 became an all out AK-47 war at all ranges. UC3 ended up being all about M4s. They have it perfect where weapons are concerned.
Re: NERF THAT **bleep** BOW
Jun 29, 2013
Bow is kinda OP imo, though I do use it (or use to anyway, recently went back to Semi-Auto because I feel like I can be a lot more consistent that way), but it isn't all that easy to use. People sprinting away need to have the shot lead on otherwise you'll miss, and it's worthless against anyone with armor because you'll need to sink 2 shots into them before you can actually hurt them.
However, if anything on the bow DOES get nerfed, I think maybe they should tone down the upgrades a bit. I feel like it benefits from it a little too much, especially with the draw time.
www.youtube.com/user/organizedConfoosion
First person to beat Last of Us on Hard without picking up/using any health packs + no health upgrades. 8)
Treasure Hunter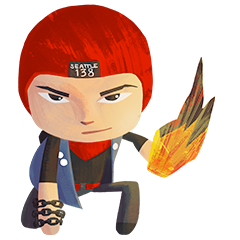 Registered: 03/09/2013
Offline
4945 posts
Re: NERF THAT **bleep** BOW
Jun 29, 2013
Re: NERF THAT **bleep** BOW
Jun 30, 2013
OP, you just suck at this game.