Reply
Topic Options
Mark Topic as New

Mark Topic as Read

Float this Topic to the Top

Bookmark

Subscribe
Highlighted
The [UNOFFICIAL] Resistance 2 Weapons & Beserk List *Updated 12/02*
76 replies 444 views Edited Dec 3, 2008
The Weapons & Beserks of Resistance 2
Quick fly through of all the known and revealed weapons and beserks that will be featured on Resistance 2.
Something you might want to check out aswell is,
IGN's Montage of Weapons for Resistance 2
Legend

Also check out these markings, they serve as a organizational purpose
Single Player Compatible
Multiplayer Competitive Mode Compatible
Appears only in Cooperative Multiplayer/Splitscreen Mode
Beserk available only to Chimerans
Beserk available only to Humans
Beserk available to both Humans and Chimerans

Texts in this color and size are my personal notes about the gun.
Human Weaponry

M5A2 Carbine
The M5A2 Folsom Carbine is the standard issue assault rifle for the Sentinel Program. It has rapid automatic fire and a 40mm rocket propelled grenade as its secondary fire.
"Pretty much the staple gun of Resistance. Well balanced, great fire rate and accuracy makes this gun deadly medium to low. Good luck with the distance though. I call this my Girlfriend."
Rossmore 238
The Rossmore 238doubl-barreled comant shotgun is designed for close-quarters warefare. The secondary fire uses both barrels for an even more powerful attack.
"Sprinting around maps and then unleashing the double barrel shot right infront of a dudes face is priceless. Goes great with Ironheart, lets you get in close to do the nasty."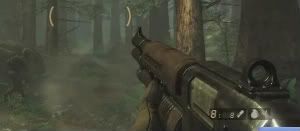 L23 Fareye
The L23 Fareye sniper rifle chambers a .303 Mk 10 round with a muzzle velocity of 3400 feet per second. With its combination of power and accuracy, it is the most effective long range weapon in the world.
"Just about the same as every other sniper rifle. Takes 2 good shots to drop a pray, and of course 1 if its a nice clean headshot."
HVAP Wraith
Capable of firing 1200 rounds per minute. Its secondary fire deploys a portable force barrier that shields you from enemy projectile.
"I wouldnt suggest this in competitive mode, takes too long to start firing. By the time your spewing lead, your already down to half a bar of health. I am still waiting to be owned by this gun or see someone get ghost by it."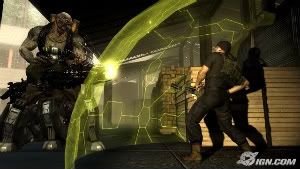 HE .44 Magnum
This revolver first appears to be an ordinary handgun. However, using the secondary fire detonates the bullets that are stuck inside the targets body, which is a very useful feature for setting traps.
"Honestly, this gun is great for a secondary. Once your Primary runs out of mags, dont reload! It usually takes 1 or 2 shots from this gun to drop the guy, plus if he tries to run you can always blow him to bits and pieces."
LAARK
The L209 LAARK was originally designed for use against Russian armored divisions. This is the most powerful weapon in the game. It fires lethal explosive rockets that can kill most enemies in one hit, but can only carry two rockets. The alternate fire, shoots off a rocket that then bursts into clusters of mini-rockets.
V7 Splicer
The V7 Splicer fires razor-sharp blades, slicing through anything unfortunate enough to be on the recieving end. It's secondary mode locks the spinning blade in the chamber, allowing a supercharged blade attack.
BellockSemi-Automatic
The Bellock fires a self-detonating canister of pressurized explosives. The secondary fire launches a napalm charge that ignites on contact, setting fire to anything caught in its blast radius.
Phoenix
Available only to the Medic Class. This weapon fires a beam that leeches life off Chimeran forces and stores it for the Secondary Use. The beam of this weapon is much like electricity, it hits not only the target your aiming for, but also those close around him. Secondary fires off an orb, uses the stolen life you've collected, that heals all allies within the radius of the orb. Also, the carrier of the weapon is automatically given some of this energy without having to fire off the secondary, meaning while hes leeching life off the enem he slowly regains his.
Marksman
This modified Chimeran sniper rifle fires multiple ion bursts across a great distance. Its secondary fire shoots out electrostatic orbs that damage all nearby enemies.
"A beast in all ranges. Low, Med, Long, it can handle it. Great stopping power and accuracy, downside: 21 rounds to spend. The secondary fire can help you out a lot in close quarters situation to add some more pain into the game if you got one to spare. Does magic with the Prototype Ammo, about 2-3 bursts and their done."
Pulse Cannon *NEW*

Not much is known about this weapon, seems to operate much like a Rocket Launcher though. Secondary, unknown.
Frag Grenade
A standard issue anti-personnel munition used throughout the British Armed Forces. The grenade has an exposed fuse which releases an irritating smoke prior to detonation.
Air-Fuel Grenade
While the origin of this grenade unclear, it is the most powerful grenade in the game. The Air Fuel Grenade will stick to most surfaces, including enemies, and release a flamable gas. It will then ignite the gas and instantly kill whatever is caught in it, or set it on fire.
Proximity Mine
Available only to the Spec Ops Class. This is unlocked at Level 10. When dropped, the mine will activate and will only explode if an enemy trips over it causing a massive explosion. Great for dealing with Grims.
"Great for dealing with large groups of Grims, watch the fireworks
"
Chimeran Weaponry
Bullseye MK II
This Chimeran battle rifle shoots homing tags that cause subsequent shots to hit the tagged target. Use the secondary fire to shoot a homing tag, then finish off the target with the primary fire.
"Its hard to tag, but once you do, its complete gold. Also, it is best to move and around strage while shooting this gun. The guns just great for advance dancers of the game. For those that are great at dancing pair this up with Adrenaline Rush, I've gone into some crazy sprees with it cause of the speed & accuracy from the beserk. Makes it fire like your aiming down."
Auger MK II
Capable of firing through solid walls. Its thermal imaging technology allows you to see hidden enemies. The secondary fire deploys a force barrier that protects you from enemy projectiles.
"About the most underrated gun, if you havent tried it, TRY IT! It's something to fear in the right hands. Does heavy damage and you can do it hiding behind things, whats more to want? Not to mention you can hold off against MULTIPLE TARGETS with this gun. Guns a complete beast with Prototype Ammo"
Hedgehog Grenade
This anti-personnel munition is used by the Hybrids. It will release spikes after detonation. The spikes will fly off in all directions and kill or badly damage anything they hit unless it's using cover.
"My favorite grenade, I'd say its also the best."
Melee
Weapon Butt, Knives, Claws. Resistance has it all. The kind of melee you do depends all on your weapon and or situation, no one really knows right now. All thats really known about it is that its better then reloading your weapon during a Close Combat situation.
Beserks
Beserks are special abilities a player can use when they have recieved enough points in a given life. They are comparable to perks, but must be activated and are temporary. And much like perks, more are available upon leveling up
Advanced Radar LVL.1
Increases player's radar range and broadcasts enemy positions to nearby allies.
"Great for Team Matches."

Chimeran Rage LVL.1
Grants hybrid vision to the player and nearby allies, allowing them to see heat signatures through solid matter.
"Its great, but the only thing bad about it, is when theirs a lot of baddies infront of you. It's hard to determine which one is behind a wall and which one isnt since they all show up as glowing figures."
Electrostatic Orb Burst LVL.1
Fires electrostatic orb above the player, providing an increased tactical advantage against enemies attacking on all fronts.
"Found this useful as a Sniper when things get close to me, other then that... Useless."
Ironheart LVL.1
Reduces enemy damage to the player by half for duration of beserk.
"You can never ever go wrong with this one."
Prototype Ammo LVL.1
Creates amo kits containing advanced prototype ammunition: one of which is instantly given to the beserker. This ammo inflicts additional damage for the duration of the beserk and also refills all primary and secondary ammunition.
"You cant go wrong with this one too."
Adrenaline Boost LVL.4
Increases the speed of the player's movement while maintaining accuracy.
"Awesome with the Carbine or Bullseye, its ment for strafers."
Chloroform LVL.4
Available only to the Medic Class. During the beserk, the Phoenix's beam will paralyze any enemy it touches. When paralyzed, enemies take damage over time. This damage is converted to energy in the Phoenix.
Invisibility LVL.4
Available only to the Spec Ops Class. Renders the player invisible unless taking damage or interacting with a swith or console.
"You can have a lot of fun with this one here. I've used it to flank around hordes of Chimerans and wiped out all of em or most of em with my Marksman so my team can move forward."
Ring of Life LVL.6
Creates a circle at the player's location whithin which all allies will regenerate health.
Overload LVL.9
Once activated, the player will explode if they are killed, stand close to an enemy, or a few seconds have passed. Their movement speed will be increased, and thye will not be penalized with a suicide or death.
"Great for Strafers due to the boost of Speed and Close Quarters. Gotten about 1 or 2 kills from this here and there when I explode."
Myths, Rumors and Unidentified Weapons of Mass Destruction
The following are weapons that are rumored to be in Resistance 2.
Spider Grenade
The Spider Grenade spews forth black ooze that gradually grows. The spider web-like tendrils have the ability to climb up walls, spread across the ground, or creep through windows. All the while, the ooze burns like napalm.
Plasma Grenade
"Collecting all of the "infected" intel will unlock another R2 weapon, the Plasma Grenades..."
Quoted from source: http://blog.us.playstation.com/2008/10/09/resistance-retribution-resistance-2-interoperability-and-t...
---
I'll be updating it as new weapons are revealed or more information about the current ones are revealed.
Also I'd like to give credit to Fury_Fury, used some of his pictures
---
Message Edited by milfhunter on
12-02-2008
05:12 PM
Noelpioroda
Uncharted Territory
Registered: 04/05/2008
Offline
1488 posts
Re: The Weapons of Resistance 2
Oct 10, 2008
good job
If you ever use the phrase "noob", "epic fail', or "a hero arrives", or STILL think "Rick Rolling" is funny, I hope someone punches you in the nose for being a super nerd. if you think the same way copy and paste this into your SIG. founding father. LEGIT: FOX HOUND

Xbox 360 Gamertag- nrounder
piratekiller1228
Uncharted Territory
Registered: 01/05/2007
Offline
1644 posts
Re: The Weapons of Resistance 2
Oct 10, 2008
ahhh very nice frag, looking forward to new updates.
also, add in the new chimeran grenade, I think its called the spider grenade.
there's no photos yet but there's brief explanations online.
Re: The Weapons of Resistance 2
Oct 10, 2008
Awesome thread!
I give you a Kudo Kookie.
Lombax Warrior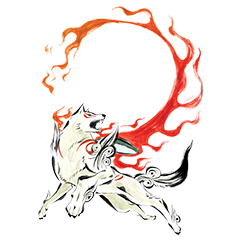 Registered: 12/24/2007
Offline
188 posts
Re: The Weapons of Resistance 2
Oct 10, 2008
I think the secondary fire for the phoenix is that it heals your teamates.
If you ever use the phrase "noob", "epic fail', or "a hero arrives", or STILL think "Rick Rolling" is funny, I hope someone punches you in the nose for being a super nerd. if you think the same way copy and paste this into your SIG. founding father. LEGIT: FOX HOUND

Xbox 360 Gamertag- nrounder
Re: The Weapons of Resistance 2
Oct 10, 2008
---

Nrounder wrote:
I think the secondary fire for the phoenix is that it heals your teamates.

---
I was watching a video on it and it seems like it was healing while it was leeching life off the Grims.
But seems reseasonable, steal life with Primary then Secondary distributes.
piratekiller1228
Uncharted Territory
Registered: 01/05/2007
Offline
1644 posts
Re: The Weapons of Resistance 2
Oct 10, 2008
---

Solid_Snake007 wrote:


Great list. I just hope R2 has around 16 weapons like R1 (and more)

25 weapons shld do the trick

---
LOL if thats the case I'm glad we went with a two-weapon system...
God forbid we hav to look though a 25-slot wuick-select to find a weapon