Reply
Topic Options
Mark Topic as New

Mark Topic as Read

Float this Topic for Current User

Bookmark

Subscribe
Highlighted
Re: *** U N I T Y *** The Resistance is here!
hi all just to go over on what's going on this week,
Dust Templar Manhunt Event
As of today till Tuesday the Dust514 Event is Live as those who signed up to be Templars are there to go against anyone who does them wrong and anyone is welcome to join for the Templar Manhunt. Fer anyone who plays during this event and post their experience on the thread below, will receive an extra bonus reward (to be named later), hope to see you all that can there
http://community.us.playstation.com/t5/DUST-514/EVENT-DUST-514-Templar-Manhunt/td-p/40444931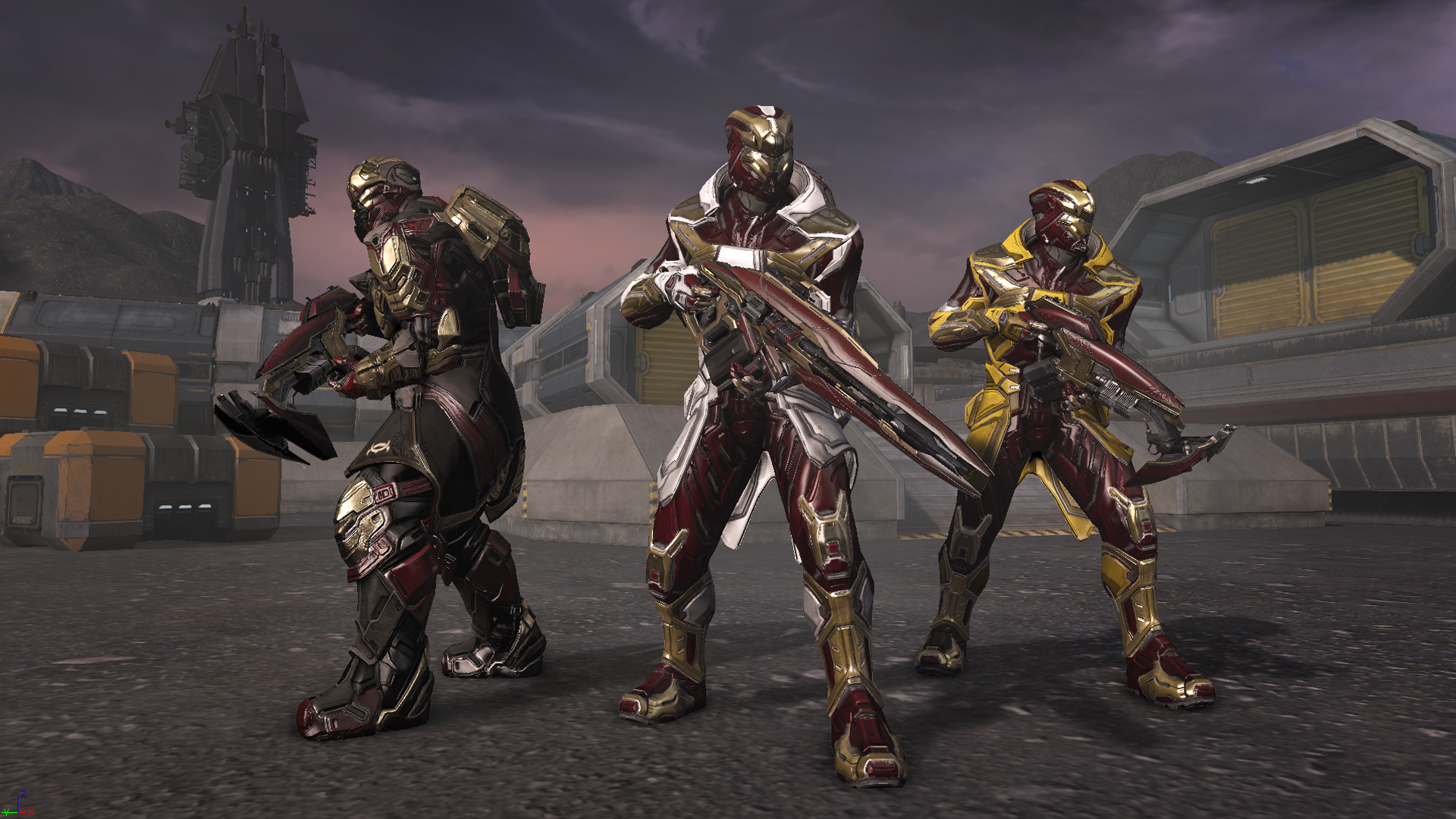 Vending Machines Flash Mob Event
Yesterday I attended Day1 of this event that al2009man is hosting as this FlashMob idea was great, with Jersquall co-hosting it making this one fun Flashmob, we went to a couple spaces as vending machines and today at 8pm it will continue (Will try to get out early from the TAM meet to attend tonight)

fer those coming make sure to re-download the spaces provided at the link below;

http://community.us.playstation.com/t5/PlayStation-Home/DAY-2-Vending-Machines-Flash-Mob-Event-ft-Je...
A&D Wing Invasion Party

This Monday June 3rd at 6pm Pacific / 9pm Eastern, Angels & Demons club is hosting a party at the Acorn Meadows Park and anyone from the Community is welcome to come and wear wings to invade the space.. There is a planned challenge race for the two factions involving anyone who comes as their Civil War continues. Here is link to event;

http://community.us.playstation.com/t5/PlayStation-Home/Event-A-amp-D-Wing-Invasion-Party-Monday-Jun...
Re: *** U N I T Y *** The Resistance is here!
[ Edited ]
Sweetness...
Ok so The Hurricanes still want to join up with Unity, Maybe we can meet up with them on the day they have thier meeting... I heard it might be on sundays, so if anyone wants to make plans to do so, chime in here so we can make plans... its been like over a month already right?
Also I came in to post stuff about a fix I found threw the forums with the Home Page and your Recent Posts... Here is a link to an insert your own ID number type thing...
I found the info threw this Thread... yet the thread got pretty nasty, so ya Just use this and save yourself the strain of reading the tread lol
http://community.us.playstation.com/t5/PlayStation-Forums-Support/Posting-List-Isn-t-Showing/m-p/403...
First after you sign into your PS forum acoount go to the top right hand corner of your dashboard, and click on your own name...
It will bring you to this Link...http://community.us.playstation.com/t5/user/viewprofilepage/user-id/your-ID-number-is-here

Take that number at the end and place it at the end of this link and then bookmark it.
http://community.us.playstation.com/t5/forums/recentpostspage/post-type/message/user-id/your-ID-numb...
And the Main reason I signed in today was to come and tell you all about a new ARG I found about last week...
Sadly I have not played on my own account yet, I did take a look at a friends account and it looks amazingly well put together... Its a massive ARG, its still in beta and Half a million or so are already playing world wide... there are tons of back ground videos and story updates live almost every day... Here is a Wiki of the ARG...
http://en.wikipedia.org/wiki/Ingress_(game)
Here is the Main Page where you can ask for a beta Code...
Sadly it is an Android 2.3 or higher with GPS app game, yet still it looks like massive fun, and real world cooperative game skills along with cross language communication...
Re: *** U N I T Y *** The Resistance is here!
Is it possible to join more than one club in home? 'Cause I'd like to join the A&D club that hosted the party Monday, and Lair as well as TAM
Offline
Re: *** U N I T Y *** The Resistance is here!
@ Patchex was nice you brought it up and got some of us from the Committee doing a meet and greet this past Thursday.. As there will be others with clubs who may want to join the group..
This week..
Extra Life 2013
This week I started the Extra Life PHome Community thread (click here) here on the forums showing anyone or teams from the community involved with it, yea the event wont start on November 2nd but getting a good head start is all good.. For those interested in joining our UNITY team click here.. and lets make it happen
E3 Press Conference and Showroom space
Every year it just keeps getting better and better.. We already are pre-registering onto the E3 booth to get a some neat goodies that we will get just for doing that this week.. As also for the E3 rewards we will get at the theater & showroom, they say it will be plus 20 rewards once its all done, can't wait to see what they are.. As I'm looking to seeing all what will be showcasing this year including that PS4.. many want to see how this PS4 will look like. For those who will be watching it streamed live at the E3 theater this Monday at 9pm ET and then waiting for the doors to open the E3 showroom space on Tuesday at 3pm ET. This will be one great event.
I personally will be out from hanging on PSHome this week (won't be on much only to get certain rewards, new items) this Monday till Friday as I will be attending the E3 event in LA, thanks to the MVP program, I will do what I can to get some video footages out showing stuff from the showroom, if anyone has any special request or something they want to see, do let me know by posting here, or send me a DM on twitter, I will do my best to put it up there.
Offline
Re: *** U N I T Y *** The Resistance is here!
Yes David... Have fun!!! And I look forward to pictures of E3!!!! Please check out the Extra-life Booth, Ill DM you too... Not to sound ungreatful or Rude, yet its about time Sony took you Guys and Gals to E3, with out making you pay a fortune, I can just imagine How much money you and the other MVP have helped them make in the past 5 years... You all deserve it... So again, I hope you have a great time... Don't forget lots of Pictures!!!
I also stopped in to drop some stuff in the thread...
Question, Has anyone here started Ingress? I still have not had a chance to play, yet it looks amazing!
I have been thinking about this thread alot lately, seems to people on the outside (from what some one said to me) that we have faded away lol Yet I just want to note here, (and people here probibly already know this) We are very much alive, just kinda running around in the background getting stuff done! So with that said, I will try and visit more often to share random stuff... I think that's what I liked most about this and old threads, The sharing of random game and non game related stuff that are interesting! (And of course the Planning of Parties!)
First I get a Military Mailer about once a week, and I found something very interesting this week... check this out... Its real life Bionic Suits being Tested... I have mentioned these before yet this is the first time I have seen real pictures and have real proof that they are being manufactured!
http://kitup.military.com/2013/06/army-tests-bionic-suits-designed.html?Esrc=recruit.nl
Another really cool thing I came across is Chess related... I did not know there was a Childs League this big!!! Mostly composed of 11 year old and a few 10 year olds~! I am now teaching my children to play and they are a bit younger then this yet maybe they might be involved in something like this in the future! (If they want to of course!) Pretty Amazing actually, goes to Show that in Gaming, Age is not a Factor in greatness!
http://www.chess.com/blog/MikeKlein/prodigies-return-for-chesskidcom-2013-national-online-championsh...
Last, I played Portal 2 this week with a Friend from Japan, and they Earned thier second Plat with me!!!! Awesome Sauce... the first one we earned together was Journey! She or He is fairly new to Gaming so to speak, yet extreamly smart and fun to game with... sadly we do have a bit of a Language Barrier going on yet we have tried to keep in touch using our PSN inbox and google translate... both of us often find the translations a bit funny... Yet I really and Thankful that company's like That Game Company and Steam with Valve along with Sony have made it possible for two people like us, so far away from each other, so seperated by language, yet able to game comfortably and have fun doing it!!!
Alladonna sends me game related Pictures all the time (Pictures can say a thousand words in any Language!!!) I asked If I could share a few and He or She said yes so I figured I would share my two Fav!
I think a friend of thiers sent this one originally! This one was from around Christmas time! (I sent a picture of Lockwood Cookies from the Lockwood Space and they sent this in return!)
And Last week before we played Portal 2 they sent this one! Alladonna Made it for Dinner!!! mmmmm looks Yummy!
Re: *** U N I T Y *** The Resistance is here!
hey all,
well figure to bring up the latest and greatest on whats goin on.. well looks like I will be taking a break from hosting TAM and A&D meets till I get this PSHome connection issue resolved.. which I will but in due time.. thou I should still try to get on Home when able and even fer a bit I will try to do what I can. (here is where i posted my issue in support)
Also wanted to bring this up...
"Greatness Awaits" video
If you have not check it, check it out as it has some unlockables that you can discover by watching the video. some of these are tracked in the video page itself, some of them are not available till a certain amount of time has passed or when it reaches a certain amount of views.
While you watch the video there is a blue bar underneath it. When the tracker moves across the blue bar it will aproach "bulbs" that are lighter blue. When it gets to one of those, you can click it and it will pause the video, expanding the view. At this point youi can search, looking for the unlockables.
Anyways if you curious, here is a list of the 35 unlockables
Spoiler
(thanks to ck2875 for the link)
Taken From: http://psnprofiles.com/forums/topic/7100-all-35-secrets-in-greatness-awaits/


Scene One:
1) Transistor Poster - Transistor - (Content Unlocks July 9th)
2) Police Car Light Bar- Watch Dogs - Unlock*
3) Boxed TV (Left) - Greatness - Commercial's Score MP3
4) Boxed TV (Right) - Playstation - (Content Unlocks July 16th)
5) Lamp Post - The Order - Exclusive Image
Scene Two
6) Coconuts - Far Cry 3 - Unlock*
7) Rapture Appliances Sign - Bioshock - Unlock*
8) Security Cameras - Watch Dogs - (Content Unlocks July 9th)
Scene Three
9) Overlord Dropship - Killzone: Shadow Fall - Unlock*
10) MacGrath Market Sign - inFAMOUS 2 - Unlock*
11) The Witness Poster - The Witness - (Content Unlocks July 9th)
Scene Four
12) Helghast - Killzone: Shadow Fall - (Content Unlocks June 25th)
13) Aiden Pearce - Watch Dogs - (Content Unlocks June 25th)
Scene Five
14) Helghan Symbol - Killzone: Shadow Fall - Unlock*
15) Clicker - The Last of Us - (Content Unlocks at 1,000,000 Views)
16) Witch Doctor - Diablo III - Unlock*
17) Baseball Players - MLB 13 The Show - Unlock*
18) Sports Car - Grand Turismo 6 - (Content Unlocks at 5,000,000 Views)
19) ATAC - Killzone: Shadow Fall - Unlock*
Scene Six
20) Double Blimp - The Order - (Content Unlocks July 16th)
21) Horse & Carriage - The Order - Unlock*
22) Round 4 Sign - Playstation - PS4 Exclusive Images
23) Captain Edward Kenway - Assassin's Creed IV - Unlock*
Scene Seven
24) Delsin Rowe - inFAMOUS: Second Son - Second Son Exclusive Image
25) Helghast Terrorist - Killzone: Shadow Fall - Unlock*
26) Knack - Knack - (Content Unlocks June 18th)
Scene Eight
27) NBA 2K14 Backboard - NBA 2K14 - Exclusive Footage
28) Dragon - Skyrim - (Content Unlocks July 2nd)
29) Fire Breathing Demon - Diablo III - (Content Unlocks July 2nd)
Scene Nine
30) Black Flag - Assassin's Creed IV - (Content Unlocks at 10,000,000 Views)
31) Swat Car (Right) - Beyond: Two Souls - (Content Unlocks June 18th)
32) Skeleton Army - Skyrim - Unlock*
33) ISA Cruiser - Killzone: Shadow Fall - Unlock*
34) Mawler - Killzone: Shadow Fall - Unlock*
35) The Traveler - Destiny - Gameplay Trailer
*Just an Easter Egg to find; has no exclusive
Offline