Reply
Topic Options
Mark Topic as New

Mark Topic as Read

Float this Topic for Current User

Bookmark

Subscribe
Highlighted
Lock-a-Doodle WARNING, friends cannot play unless they own it.
[ Edited ]
85 replies 965 views Edited Apr 24, 2013
Friends cannot play unless they own it or are gifted it for 512 tokens. I just wasted $29 on the pre-order bundle assuming that friends could play. Also I thought, stupidly, that friends would be able to use the doodle packs I bought as well, which was why I bought the large bundle. Really foolish assumptions on my behalf right? Considering the whole premise is "doodle with your friends!!!"?
This is one of those rare cases I wish I could recieve a refund. It says NOWHERE in the item description that friends must purchase their own to play, you don't find this out until a friend attempts to play and it informs them that they must own it. In fact, the wording "Choose a word and doodle it for a friend to guess, or accept their challenge to guess something they've doodled." and "Create Doodles for your friends to guess" implies friends CAN play without a separate purchase.
Also, the how-to video instructs you to "select an existing friend" but fails to mention friends will need their own.
This is an absolute ripoff, and the last time I am purchasing ANYTHING from Lockwood. I should have known better. I thought, since this was their first clubhouse, they were finally starting to listen to consumer feedback. But no, they have actually taken a step BACKWARDS with this.
Oh, and the 2 active items that come with it are ridiculous as well. Lock-a-doodle itself takes 27 slots, and the easel for displaying pictures takes a ludicrous 25. There was no way of knowing this before purchase either, as it's only included in the bundles.
I'd advise anyone who hasn't purchased anything from this to refrain from doing so, unless you also plan on buying lock-a-doodles for all your friends.
Update: I was trying it out with a friend that bought it, and the game doesn't even run properly. After drawing and/or guessing a pic, when you go to continue the game, it either becomes "unavailable" or you have to rejoin the apt or club (we tried it in both just to make sure) to continue the game, and you will have to do this repeatedly just to keep the game going. Even to the point of having to rejoin just to see if your friend guessed the picture.
Re: Lock-a-Doodle WARNING
Apr 17, 2013
Wow... Lockwood has never really gotten into the trend of lowering furniture slots though. So that doesn't surprise me. But not letting friends play? What in the blue hell? Seems stupid to have a clubhouse if friends can't play.
Re: Lock-a-Doodle WARNING
Apr 17, 2013
The slot usage surprised me, because with their new active gothic bed at only 4 slots or so, I thought they were finally "getting it" and moving into the present, instead of staying within 2011 limitations. I gave them WAY too much credit in taking the risk to buy this. It didn't feel like a risk though as I was really excited about this, now I'm just angry.
Re: Lock-a-Doodle WARNING
[ Edited ]
Apr 17, 2013
Hi Tarazuma, sorry that you dont feel happy with your purchase
Could you tell me if there are people playing the random doodle matches and if you get rewards like that too? Probably no one of my friends will buy this, but i really want to get either the clubhouse or private space..
Re: Lock-a-Doodle WARNING, friends cannot play unless they own it.
Apr 17, 2013
the doodle thing isn't my thing at all , well not this anyways . however after watching the video it kinda had me interested in it. the $29 bundle is a good buy... until you read this thread & find out that friends must own it too. we dont even know what kind of rewards or even how many. i think all of these factors should be addressed before putting up for purchase .
Re: Lock-a-Doodle WARNING
[ Edited ]
Apr 17, 2013
The random game appears to not be live. I did earn 1 point and the paintbrush from guessing a random game doodle, which appeared instantly. But when I went to select it again, it just had me draw something and that was it.
Also, the apt/club is absolutely cluttered. It's hard to place ANYTHING, including the furniture that comes with it...which also doesn't fit anywhere else. This is one instance I actually WISH they had an open house...
Re: Lock-a-Doodle WARNING, friends cannot play unless they own it.
[ Edited ]
Apr 17, 2013
Yeah, and as for the rewards, they seem to be mostly color swaps of the exact same shirts, and tiny, barely visible hand items like a paint brush and palette (uses the same brush in both cases)
Really wish I could get my money back on this, but since I can't, as I said before I'll just make up for it by never purchasing anything from LKWD ever again...
Legendary_Vicki
Keyblade Wielder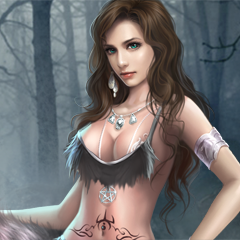 Registered: 05/30/2012
Offline
5457 posts