Reply
Topic Options
Mark Topic as New

Mark Topic as Read

Float this Topic for Current User

Bookmark

Subscribe
2 replies 174 views Edited Nov 26, 2013
Was sitting here reading topics and a idea came to me. I know I personally as a club creator try to broadcast my club as much as possible and love to promote it and attract new people. (By the way look us up "The Fallen"
always love to have new members. prob would b best to add me and ask for a request for the Fallen is spelled odd with symbols for the ll's though its not noticeable) any who.I figured I would make this and see how it goes.Sure it will prob die in a day if it makes it that far but worth a try. (kinda ranting.Sorry)
To Any club leader, who is looking to get new members or just promote their club. Post about it here. Give us a short description about the club. Maybe what your club house currently is. Ill post about mine in the comments for a example. Tell us what your club goals are and if you are a family or just a club. What the purpose is, just meeting new people or a deeper meaning? So lets hear it. Here's your chance to get our club name out there and get some new people!
What I want to do to most people..
Fallen
Re: Clubs promotion
[ Edited ]
Nov 26, 2013
Club name: The Fallen
Leader/creator: Riaziel
members: 14
Club house: Seaclyff Retreat
Description/reason: Mainly was created to give people who are outcasts/loners I place to go, people to talk to and who cares. At this point its kinda of opened up more to anyone. But we still do try to look for people who seem like they could use a friend, lol.
Way to join: I personally suggest contacting me (Riaziel) since the name is not spelled the way it would seem. Would be slightly hard to find.
Fam or club?: We are kind of both, as I said I originally made it so though who have few or no one have people who care. Which made us kinda of a family. But at the same time we don't really do daughter son mother, father relationships or anything.
Events?: We do like to through club events. Simple things normally such as a club party or a movie night on crackle. Sometimes we do games or such with rewards. (normally a gift from the gift machine)
Rules?: We don't really have any rules accept we expect everyone to respect each other and I do not tolerate drama among the club members.
Requirements?: Again don't really have any. I mean I'm not going to accept like a 10 year old into the club unless they are mature.But other then that none.
Final comments?: Just come check us out. We love to see new members.
What I want to do to most people..
Fallen
Legendary_Vicki
Keyblade Wielder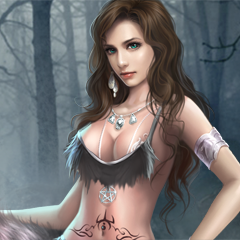 Registered: 05/30/2012
Offline
5457 posts