Reply
Topic Options
Mark Topic as New

Mark Topic as Read

Float this Topic for Current User

Bookmark

Subscribe
markburleson85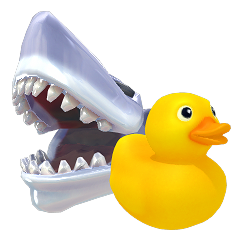 Offline
Re: is this gonna be a new trend?
parrisgg wrote:

xjordan93 wrote:

ps+ gets free stuff but then a month later its free to everyone. same with discounts. there have been many games that are discounted then they put it on a sale page a few weeks later. but now sam & max?! they made a big deal about giving it to us free, and now its free to everyone!??! im starting to like ps+ a lil less now. ive been a fan since it came out...

Imo, ps+ seems a waste of money.  It doesn't enhance my gaming experience, I don't care for these "free" things because I have GameFly, and it doesn't even offer xgc. WASTE
I will have to disagree with you on the value of PS+. All of the PSN and minis games offered are not available via GameFly (I don't know about PS1 games). Even including the games that I all ready have, I have received far more games in value than the $4 a month subscription charge (assuming you had none of the PS+ content thus far, you would have averaged $44.06 of content each month). I understand that some people have purchased a lot of PSN content and maybe PS+ wont offer them anything new, but I fail to understand why some people seem to go out of their way to bash the PS+ service.
Not to mention parrisgg, judging from your trophies, PS+ might be a great deal for you as you seem to have never played a PSN game before(possible exception of MAG). I assume that your view that PS+ is a waste is primarily based upon your belief that it should include cross game chat. I would be intreasted to know your reason for calling PS+ a waste in further details, should you be able to explain it any further.
Re: is this gonna be a new trend?
i got to agree here i think playstion plus was great for the launch and a little after the launch but now the content they offer is really great all the mini games are a joke except for a few like flying hamster i have been a little displeased with them. not to mention they sould have a launch time on store drops they are so unpredictable sometimes hours apart from the last week. they should pick a time and stick with it. and i think they should drop one good item to plus every month like the sam and max ever month instead of all these little themes and mini games i wouldn't mind not getting something into the plus side of the store every week if i knew i was going to get something on decent value the next week.
Highlighted
Re: is this gonna be a new trend?
Just to let you know, after a month, the games and things are removed from the plus section, once this happens the Plus symbol is removed from the games icon. however if you downloaded it while it was in the plus section, if you click on the game you will get 2 option a pay option, or a free with Plus option. So basicly after the month, the game will only appear free to Plus members who had the game added to your download list when it was offered.