Reply
Topic Options
Mark Topic as New

Mark Topic as Read

Float this Topic for Current User

Bookmark

Subscribe
Re: Stopping Obsession of Trophies
When i was younger i'd love to explore all corners and crannies of the games that i played, trophies/achievements didn't exist at that time yet. During those times it felt like an adventure going into places the game didn't told you to go and it was fun.
Now sometimes i still go for some because i felt challenged but when i look at most of the trophies now its just garbage and just stops me from really enjoying the game.
Re: Stopping Obsession of Trophies
---

Aureilia wrote:


Trophies for me are a sign of how much I enjoyed a game. If I enjoy it I'll platinum it, If I don't enjoy it, I wont waste my time.

Yes I did really enjoy Terminator Salvation....

---
lol... you got it cause it was an easy platinum
Furiously Chaosing
Absinthetic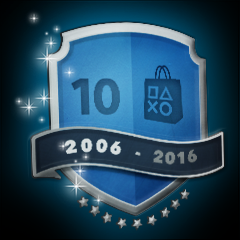 Offline
Re: Stopping Obsession of Trophies
---

ycanaan27 wrote:
Why do we platinum games

---
for the same reason people played Mario 64 to collect every single star on every single level, the same reason why people completed every single quest & side quests in the Legend of Zelda: A Link to the Past and Ocarina of Time.....
the only difference between then and now, there is something that shows others you've spent that time to get everything out of the game
Re: Stopping Obsession of Trophies
---

ossiecastro5 wrote:


Ok, if you look at my signature, I'm a bit of a trophy nut. Is that ok?

I don't really know. I remember how I used to play with my PS One and PS2 games for fun. And when I discovered trophies, I developed an obession of them. Is there any cure for this?

---
No. There's no cure, just go with it. However you can just play games with no trophies (the early PS3 games and PS mini's) or play PS1/PS2 classics. But if you want any current or future PS3 or PS4 games, you must accept that trophies are here to stay.
Multisystem owner. PlayStation owner since 2000. Inaugural PS Plus member:Legendary status. Former PS forum MVP with a launch PS3 & PS4.
Re: Stopping Obsession of Trophies
There is no such thing as stopping this obsession. It pretty much is a must have for me to play a video game. Except for the last of us.... It could have no trophies or anything and I would still have put over 30 hours into it. (which is alot for me)
We all have our lives to live. Chill and enjoy the ride. Take into consideration the situations the people around you are facing. Live Long and Prosper.