Reply
Topic Options
Mark Topic as New

Mark Topic as Read

Float this Topic for Current User

Bookmark

Subscribe
Highlighted
PlayStation: It Does Bro-Op.
[ Edited ]
4 replies 222 views Edited Dec 1, 2012
My older brother and I have always been close. We grew up playing together, gaming together, and always had each other's back. Our oldest brother was 11-13 years our senior, and of course had much better things to do than play with his two little brothers. But, when he did, they were memorable times. In fact, some of the best memories I have of my oldest brother involve times he played video games with the two of us.
I remember when our Mom bought us are first console in the 80's. My middle-older brother and I played that thing after school, on weekends --pretty much when ever we could. Occasionally our Mom would let us rent 1 game each, and we would always argue about which game to play. He usually won. When our oldest brother would join in, it was special. But, he was never what you would call a "hardcore" gamer. When the PlayStation was released our Mom bought me and my middle-older brother one as a shared birthday present (our birthdays are just a month apart.) We were instantly captivated. Not only by the graphics, but by the games. The first game we played was "ESPN Extreme Games." It was fun, though nothing spectacular.
Later we would go on to play "Resident Evil," which if you are my age and played that game when it was released, you know just how mind blowing it was. It changed the way we looked at games, forever.
To this day, one of my brother's proudest achievements in gaming was when he was able to beat RE without saving once. (We didn't have a Memory Card at the time.)
My favorite memory of my oldest brother is when he played "Tomb Raider" with us. After watching us play for awhile, he couldn't help but ask if he could play. The 3 of us worked together for a common goal -- to get Lara to the next stage. No fighting or bickering, we were working together. He moved out a couple years after that, got married, and had kids. It was just me and my middle-older brother now.
In 2002 I had my very first job. I had been working at a movie threatre for about 7 months when the PlayStation 2 was released. I immediatlly went down and picked one up. My brother and I continued to play games together into our late teens, until of course girls entered the picture. We grew up, had our ins and outs, but we always played games together when we found the time.
Though, it became more and more rare...
In 2005 I moved out just before the online console boom happened. I bought a PlayStation 3 a few years later, but sadly my brother did not. We had finally gone our separate ways in gaming. Sure, I met some great people on PSN, and it allowed me to gain new video game partners and online friendships, but, sometimes some people made the experience horrible or gave off a detached feeling -- as if they didn't realize they were talking to/playing with a real person. It was enough to make me miss the old days of playing with my big brothers. There was just something more... personal about it.
Now, me and my brother live in different cities. When we find the time to hang out it's usually to watch a movie or sporting event; we rarely get to play video games. So, I was so ecstatic when he finally got a PS3 last December for Christmas. "FINALLY!" I thought. The first game we played online together was "NFL Madden 12." Even though we weren't in the same room, it felt like old times. In the past year we've gotten to together online to play "Starhawk", "MLB 12: The Show", "Twisted Metal", and "Resident Evil 6" (just to name a few.)
Which by the way, I'd like to just say "MLB 12: The Show" is mind blowing. Neither of us had played a Baseball video game in years -- and I mean YEARS. So when we picked it up and played, it was like time traveling from 1992 to 2012. Starhawk has been a blast too, especially for my brother. He missed out on "Warhawk," so I'm happy he's been able to experience it's spiritual successor.
I'm thankful we grew up with such an amazing Mom who supported video games. Sure, she didn't always approve what we played, but she knew there were games that, under the rough exterior, took some intelligence to complete, and even helped with hand/eye co-ordination. She encouraged us to go outside and play, but when it was dark out she was happy to know we were inside where it was safe -- instead of being out on the street with some of the other kids who were up to no good. Heck, she even joined us for some games from time-to-time.
I'm also thankful I have these memories with my brother(s), as well as a chance to create more.
I hope to one day experience this with children of my own. In the meantime, I have three awesome nieces -- 4, 6, and 13 -- and ALL three are into video games. I'm a lucky uncle.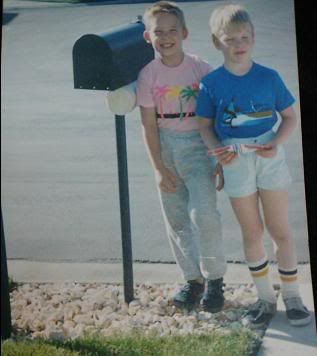 Left to Right: Me and my older brother in the Late 80's.
Left to Right: Me and my older brother in 2003.
"You must make a friend of horror. Horror and moral terror are your friends. If they are not then they are enemies to be feared."

Welcoming Committee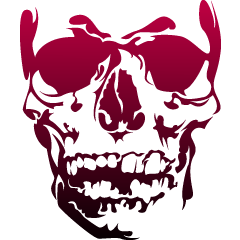 Registered: 09/13/2007
Offline
4403 posts
Re: PlayStation: It Does Family.
May 26, 2012
Re: PlayStation: It Does Family.
Aug 23, 2012
wow great story nice with grammar ok now breathe in and out im going to write how playstation something but i'll make it easy flow. And i'll do it for fun.
Welcoming Committee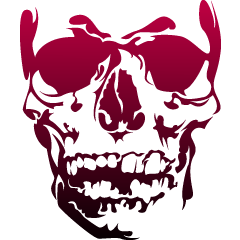 Registered: 09/13/2007
Offline
4403 posts
Re: PlayStation: It Does Family.
Sep 1, 2012
Welcoming Committee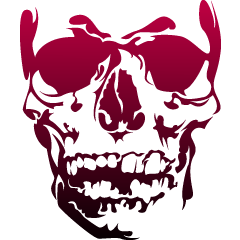 Registered: 09/13/2007
Offline
4403 posts