Reply
Topic Options
Mark Topic as New

Mark Topic as Read

Float this Topic for Current User

Bookmark

Subscribe
Highlighted
PSN + will RUIN your PS3!!!!
8 replies 1093 views Edited Dec 13, 2012
Ok. I am plainly writing to kinda complain and warn about my playstation + experience so far.
I'm sure this kind of trouble WON'T be limited to the old 60 GB unit.
Reason I think its not limited is because my friend had the exact same issue with his ps3 ( a 160 GB slim )
SO listen up if you haven't got playstation + yet.

Basically I signed up about 3-4 months ago when the service was on special for a one year subscription

For the 1st while everything seemed fine.
My console would boot up when I told it to for the automatic updates & then switch of again ...

No problems.

Then around beginning of December I started up my PS3 one morning only to find that my " hard drive was corrupt " and that the console would have to recover it or such.

Bottom line was it never recovered ... It kept getting stuck on 64% and none of the safe mode options worked or helped.
So at the end of the day I had to reformat it, which means I not only lost very important photos and videos that I had stored on there, but also that I need to RE-download ALL my games ...
I'm still downloading ...

But there is another fly in the ointment here too!
Because some of my downloads seem to be PERMANENTLY STUCK on a certain percentage!
Like Pain for example that WON'T download past 78% ( which I didn't get with this lousy service but actually bought at full price when it 1st released on the PSN! )

I could even still live with all that.
BUT now it seems to be giving me THE SAME ERROR EVERY MORNING!
It either says that its corrupt OR that it needs to rebuild the database.
This seems to be caused by the automatic update at the moment & while its fair to say " just turn the setting off " ... The fact remains that as a paying customer, I will be loosing out on a service that I paid for fair and square!

You know, having it rebuild the database before I boot it up isn't even that bad either!!!!
I'm never pressed for time when I start up my console anyway ...
BUT again there is yet a bigger issue behind it & that's that it freezes and becomes unresponsive to the point where I have to switch it off at the power supply itself!!!

Eventually it then gets it done AFTER MORE THAN 3 to 4 TRIES!!!

... So just starting up my PS3 has become an hour long process.

Not to mention all the time spent redownloading everything seems to have taken its toll on my unit since the fan has gotten MUCH louder!
This is my 3rd PS3!
I've had the Yellow Light of Death ( general hardware failure / BGA crack ) before and from what I'm seeing its heading there again.
I want to stick to my 60 GB unit, simply because its the BEST Ps3 made so far!
But its costing me a lot & the cheap useless heat sink compound that Sony used on the consoles ISN'T HELPING EITHER!
So what to do?

I've also noticed that the system becomes unresponsive when you compare trophy data.

I can't believe how lack luster the whole system has become ...

I used to be a BIG fan.

But to put it plainly.
THIS SUCKS!!!!!!!

I hope one of you have an answer for me ... besides setting the console a blaze and then introducing it to the office window of a SONY CEO with some BRUTE force and sheer speed?
Re: PSN + will RUIN your PS3!!!!
Dec 13, 2012
---
OM3G4_247 wrote:
>SNIP<


I hope one of you have an answer for me ... besides setting the console a blaze and then introducing it to the office window of a SONY CEO with some BRUTE force and sheer speed?
That's been done. Here.
You might want to go big, and load it up with M-80s or something.
I fell for you, I really do, but I have had no issues with PLUS to date, and I am sure others will have the same opinion. As with anything electronic, there is always the possibility of error and fault. I think you have just drawn the short straw on this one.


I hope you get it sorted out. If you do not like PLUS, just don't resubscribe.
Moble
Re: PSN + will RUIN your PS3!!!!
Dec 13, 2012
Hard drive corruption is a very common issue with computer systems that has many different causes. Luckily, if you decide you aren't going to set your PS3 on fire, the fix is relatively cheap and easy and can be done without sending your console in for repairs and without voiding your warranty.
http://support.us.playstation.com/app/answers/detail/a_id/362/~/upgrade-the-hard-disk-drive-(hdd)
When buying a new hard drive just make sure it has these specs:
2.5" SATA
5400RPM
8MB cache
You can get a new 250GB hard drive with these specs for as low as $39.99, less than the price of most any PS3 game.
Re: PSN + will RUIN your PS3!!!!
Dec 13, 2012
I don't exactly see how this is the fault of PlayStation Plus. As moblesuit pointed out above, hardware such as the PlayStation 3 is prone to failure just like any computer is. This is not the very first computer that I'm typing on. I've been through machine after machine after machine. Eventually computers go bad. They call it Sony Computer Entertainment for a reason, as the company is intent on manufacturing computer entertainment devices such as the PlayStation 3.
I've had my PlayStation 3 fail on me before, a 60 GB model same as yours. I've also had PlayStation Plus for nearly two years. In that time my second PlayStation 3 hasn't run into any problems with Plus, other than certain ones that have nothing to do with the PlayStation 3's failure to compute.
Re: PSN + will RUIN your PS3!!!!
Dec 14, 2012
@
moblesuit75
Thanks man.


@
Yea thanks man.
Done & done, I have a 500 GB drive in atm.

I'm 99% sure its not the HDD though.
Basically because the system ONLY has issues AFTER the automatic update ... Even if there was nothing to update and it just needed to sync my trophy data.
If I disable automatic updates, then to some degree it fixes the issue.
At least to the sense of WHEN the console switches off correctly, then it won't give me error messages when I boot it up again.

The problem then just remains with ( and yes this isn't the PS +'s fault I'll admit ) that if I want to view my trophy data, compare it with a friends OR even buy something online ... There are occasions where the console become "unresponsive" ... In the sense of it needs to load ALL the trophy data before it will work again, or it needs to load all the store pictures before it works again.
In which case the ONLY button that still works on the controller is the playstation button in the middle ... But if I switch it off, then it seem to have some issue & will on occasions then tell me it wasn't switched of properly EVEN when it was ... OR even have some of my downloads go corrupt.
So yea, that much is the shotty firmware's fault.

@
GrayGargoyle

As I said above, the primary issues here ONLY happen AFTER an "AUTOMATIC UPDATE"
If I switch it of, problem solved.
Today was the 1st day in a VERY VERY long time that it booted up and worked fine after an automatic update.
BUT now like pain & my Gt academy download ... my batman archam city download has also become STUCK!!!!
And canceling it doesn't even help.
I tried!!!
It downloads it to the same stop and the can't download it any further again.
It says downloading ... But it doesn't budge!
If you line up other downloads it will even eventually give up on it and start with the other ones.

Again, this all seems to revolve around the automatic update feature for PSN + and the issues that arise after it.

And again as I mentioned, I'm not the only one.
My friend had the SAME issue on his console & I'll assume it was after the automatic update since his words to me were :" it was just suddenly like this when I switched it on this morning "
Which was also what happened to me.
The system seems to just randomly stumble over itself after an auto-matic update.

At this point, I would JUST be happy with an answer on HOW to get my games to download again!!!!


Re: PSN + will RUIN your PS3!!!!
Dec 15, 2012
Sounds like it IS a HDD issue. If you bought your HDD recently, it should still be under the manufacturers warranty (generally 3 years). WD, Hitachi and Seagate at the very least will generally replace bad drives without a reciept, but you need to register on their respective website (I've had three HDDs replaced in this fashion over the years). Basically, you register for an RMA, package your faulty HDD securely, send it in. About a week later, you get a brand new drive shipped to you (it will generally come in plain white ('OEM') packaging, though).
The one time I used this RMA process with Hitachi, I actually ended up getting an upgraded HDD (because the model I returned was discontinued). The model I returned had an 8MB cache; the one I got in exchange had a 64MB cache (this is the one currently in my PS3).
Might be worth looking into.
Re: PSN + will RUIN your PS3!!!!
Dec 24, 2012
the only thing thats stinks about this is how stupid the original poster is. obviously just really stupid or a troll. ignore him
Equality for all
Uncharted Territory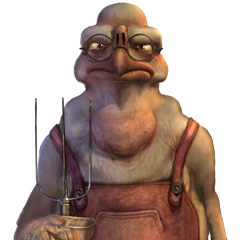 Registered: 05/15/2009
Offline
1368 posts