Reply
Topic Options
Mark Topic as New

Mark Topic as Read

Float this Topic for Current User

Bookmark

Subscribe
Highlighted
What stages would you like to see?
32 replies 287 views Edited May 5, 2012
What stages would you like to see?
Here are some of the stages I would want to see
Uncharted
Jungle
Snowy montains
Desert
inFamous
City
Portal
Gladis room
Killzone
?
Resistance
?
Jail break? (black and white ps vita game?)
jail
Batman
Arkham city
Splinter cell
?
Little Big Planet
?
What are your ideas?



The path of the righteous man is beset on all sides by the inequities of the selfish and the tyranny of evil men. Blessed is he, who in the name of charity and good will, shepherds the weak through the valley of darkness, for he is truly his brother's keeper and the finder of lost children. And I will strike down upon thee with great vengeance and furious anger those who would attempt to poison and destroy my brothers. And you will know my name is the Lord when I lay my vengeance upon thee.
-Ezekiel 25:17
drepsx3
I Only Post Everything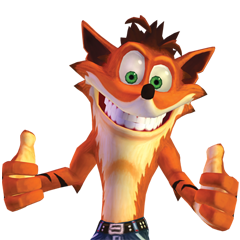 Registered: 12/30/2008
Offline
1357 posts
Re: What stages would you like to see?
May 6, 2012
These are the only ones i could really think of.
Singstar:
Backstreet Boys - I Want It That Way
Crash Bandicoot:
Dr.Neo Cortex Boss (Crash Bandicoot)
Slippery Climb (Crash Bandicoot)
PaRappa the Rapper:
Car Rap (PaRappa the Rapper)
Uncharted:
Ambushed (Uncharted: Drake's Fortune)
Convoy Car Chase (Uncharted 2: Among Thieves)
Hotel Shangri-La (Uncharted 2: Among Thieves)
Medievil:
Hall of Heroes 2006 (Medievil Resurrection)
Ape Escape:
Toytown (Ape Escape 3)
Lair:
That castle from mission 4 (Lair)
Warhawk:
Flying Warhawk Plane (Warhawk 2007)
Jak and Daxter:
Gol and Maia's Citadel (Jak and Daxter: The Precursor Legacy)
A Escape Plan level
A Fat Princess level
A Locoroco level
A Heavenly Sword level
Some tracks from Modnation Racers
Some original levels from Superbot Entertainement
Re: What stages would you like to see?
May 16, 2012
I'd like to see something with Journey. Maybe a ruin level or desert, and have the little Clothians shuffling around in the background chirping at each other and occasionally stopping to watch the fight.
Re: What stages would you like to see?
Jun 6, 2012
I agree totally with all of your suggestions, but I would love to have a couple of ModNation Racers stages where a couple of times a match, karts could drive past and run over you.
Re: What stages would you like to see?
Jun 6, 2012
I would like to see Ezio Auditore and Sonic the Hedgehog in this game. The stage would be Florenece from Assassin's Creed 2 and Venice Rooftops would play during the fight. Then, half-way through, Florence gets flooded and Perfect Chaos rises from the water and Open Your Heart would start to play.
Re: What stages would you like to see?
Jun 6, 2012
4 things
1 a very calm stage that nothing happens in and is straight and has a cool back ground
Like Final Destiniaton
2 They should make like 2 or 3 stages that you can actually fall off from
not fall off like brawl, where you have high damage and get sent flying
just like oh i fell off
its hilarious
Penalty!
3 Alot of Varied stages
that are all very different
that if you keep picking random
you'll never get board
4 A stage that keeps morphing from a ps1 to a ps2 to a ps3 to a world with all the psps in it along with the vita
oh wait i know
the xmb can run through that stage, and like it'll go to a video
and then like it'll have some guy playing that ps3 tennis game, and the ball will hit the characters, and then they'll put music and like sound waves push you through the stage
Re: What stages would you like to see?
Jun 6, 2012
hotel shangri la sounds legit...
on one could be the elevator, and on the other is the power room
and you can use the elevator to go up
or just go up through the power room, but theres like an electric wire there that can zap you and make you lose special if you get hit by it
unless you were imagining the front of the hotel o.O or the top, or the place with the flags...