Reply
Topic Options
Mark Topic as New

Mark Topic as Read

Float this Topic for Current User

Bookmark

Subscribe
Highlighted
TheGoldenMonky5

Offline
---

Nick930930 wrote:


Yeah all I say is F#&* a sequel... this game doesn't need another one.

Maybe when the new Playstation comes out...but until then, hell no. Not even worth $60 for the first one... I'll consider the sequel as much as buying Dead Rising 2: Off the Record... as in...no... i won't..

---
Lol if you dont have the game then your opinion is invalid.
Well SuperBot really nailed their fighting system down with this game, so hopefully for the sequel they'll be able to improve really the only two areas that everyone has complained about: More content and Better Presentation.
For characters: Ellen from Folklore and Dart from Legend of Dragoon should be added to the roster
For story: please talk to the folks at Netherrealm Studios, I think those guys have a handle on how to incorporate a story mode into a fighting game (play MK9 if you need proof - or wait and see how they do it in Injustice, pretty sure the story mode is gonna be one of the highlights in that game there as well)
For features:
- unlockable characters I love unlocking characters in fighting games (the only ones that I've played and have done so, so far this generation are SCIV and the original SFIV)
- more alternate colors for the character costumes
-keep the individual character leveling system
- keep titles and icons
- add playback/record feature in training/practice mode
- more options in Tournament mode (voting for turning off items, stage voting, 1v1, 2v2, FFA---should be listed as different play modes as well)
Gameplay mechanics:
-allow us to jump while holding block
-allow us to throw while holding block
-remove invincibility frames when in knockdown state, but allow us to 'Tech Roll' to prevent knockdown state
-allow some supers to connect with opponents when in knockdown state
I think what Superbot needs to do for the next game is to add more supers for the characters; having only three super attacks gives the gameplay of the characters a lack of variety, as well as makes the players' actions more predictable.
They could also tweak the life system they have; adding a 3-segment health bar of sorts. Supers would still be the only means of dealing damage, however the amount of damage a super attack would deal would be equivalent to the level of the super.
Level 1 supers- depletes 1 segment of health
Level 2 supers- depletes 2 segments of health
Level 3 supers- depletes 3 segments of health (an instant kill)
With this kind of system Superbot could add in more varieties in items, as well as have more suitable mechanics for a final boss battle.
More Content: unlockable Charackters, modes hidden easter eggs, items, stages, movies and music.
talking about characters:
I don't have to count all the missing Characters, since everyone is writing them and there are thousands of "XYZ should be in" lists in the internet...
but all new characters should be locked from the beginning and i would keep the 1 character per IP idea to have more variety.
the 20 existing characters should be all in the sequel IMO, because they all deliver a specific gameplay experience. (and all upcoming DLC characters should also be in, because i dont want to pay them twice)
And what i'm missing is more variety in the Supers. They could add 2 more Supers to all 3 Superlevels. left/right + R2 would be the usuall Super, Up + R2 and Down + R2 would add 2 more Superattacks per Level. This would make 9 different Superattacks and that would make it much harder to decide how to attack someone. (think about Kratos Level 2: everyone avoids to get over him)
Modes:
CTF (even if it is unfair, because of the different abilitys of the characters)
King of the hill
Roll the Dice
adjustable Handicap
harder CPU
better story mode and more influence from the individuall IP's like fighting against a horde of enemys from GOW/fat Princess in a vertical scrolling level or some plattformer parts from LBP. AND more Cutscenes and story elements overall.
Stages
I Love scrolling Levels, i wish they have included the Train level from uncharted 2 !!!
Also they could make some variations of the LBP level
and maybe a Level without any fixed ground, so you have to fight on moving Plattforms all the way.
Levels with constant danger areals, so you can aim to throw an opponent in this direction (like on sandover but with more impact)
Sequel for PS4
-Better graphics
-30+ launch roster
-Additional modes
-Fleshed out story
-More cutscenes
-More unlockables
-More items
-20+ initial stages
The story could incorporate rivals into a more predetermined story in the sense that you do not pick your character, and instead alternate between a couple/all, while each characters story is being told, all interlinking etc. I'd write out a nice example, but...meh.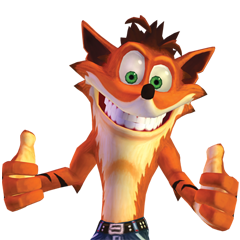 Offline
Hey guys I'm back. Once I finish this game I'll define this thread a little more and make a comparison thread between this and brawl, involving pros and cons. I own both and love both so I wont be picking sides.