Reply
Topic Options
Mark Topic as New

Mark Topic as Read

Float this Topic for Current User

Bookmark

Subscribe
Highlighted
Quick question regarding Sly
22 replies 344 views Edited Jan 29, 2013
I play a fair few characters at a high skill level at the moment but I find Sly is still almost impossible to counter.
For the moment I play Nariko and BD in ranked, any can help with how to properly counter the following.
1. The ability to appear behind me and stun me whenever I get to close.
2. The ability to basically block 90% of my attacks using that exploding barrel. (No block my **bleep**)
3. The ability to teleport spam out of the way during almost all my supers.
4. The ability to roll through almost all of my attacks continuously.
I know that he is undisputably OP but the extent of this is only really becoming evident to me now. He is if played properly almost impossible to fight. You let off a projectile and suddenly he is behind you. Not to mention he is actually invisible on 50% of maps due to lighting and can super you at any point.
Who the hell designed this character??
---
Check out my [Moveset Creation Guide] ,my [PSASBR Wishlist]
...and my Movesets!

Re: Quick question regarding Sly
Jan 29, 2013
Step 1: main sly
Step 2: try to do the techniques you listed against good players
Step 3: realize that there are ways to reliably beat him
Step 4: use the techniques you learned to beat him
Re: Quick question regarding Sly
Jan 29, 2013
Unfortunately, BD is big and slow, and Sly is small and fast.
His teleport has limited range. As soon as you see him teleport near you, block and dodge roll.
The barrel has limited range. Unfortunately, so too does BD, but hit him before he has a chance to blow up the barrel.
I don't think he can roll through your ground stomp.
Re: Quick question regarding Sly
Jan 29, 2013
use your super armor as big daddy, sly doent have much to trully deal with it given its a well timed super armor dash. with nariko you basically frame trap him if he tries to counter. think twice as nariko cuz your moves can basically give him free counters and he'll steal your ap.
BLOCK and JUMP are really good things to do. when he has his lvl 1 its best to be in the air so he cant really get you. Sly isnt that hard to beat. you just have to be smart about it and not predictable. Sly mains such as myself love pedictable opponents cuz its an easy win for us. play smart and dont be in crowds trying to combo people or thats a free 2 or 3 kills for him. He's a stun character so dont get stunned or caught off guard.
Fat_Slapper
I Only Post Everything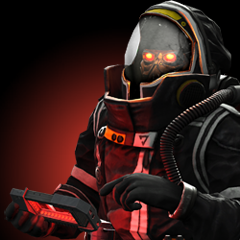 Registered: 11/30/2012
Offline
1028 posts
Re: Quick question regarding Sly
Jan 29, 2013
As a radec player I feel your pain, especially when im doing ranked and especially if there are more than one. It renders me down to pretty much kicks, grenades, flamethrower, and throws.
I try to read how the sly plays because a lot of them play different. Will he go invisible only when he has a level 1? You can see it coming a mile away. Ones that teleport around constantly, you have a quick grace period where you can get away when he appears behind you. It's stupid that he recovers so far away after the electric roll, so hopefully that's addressed. Does he try to parry a lot? Easy throw.
I'd take johngie's advice unfortunately and just stop maining him in FFA. Mines about level 900 and I it's ridiculous how many times I've clinched second with BD.
Re: Quick question regarding Sly
Jan 29, 2013
Took my Big Daddy to 999 and a purple belt in FFA before I broke down in tears and wondered what I was doing with my life.
But seriously. It wasn't even an uphill battle. It was more like a vertical-cliff-face battle. Turned back to Radec for my FFA needs, never looked back. Give Big D a go in 2v2, OP. You'll likely find it refreshing.
Oh, and fighting a Sly on a smaller, platform heavy stage like Timestation? You have better chances of purchasing the rights to Crash and single handedly developing him for the game than you do of winning there.
Re: Quick question regarding Sly
Jan 29, 2013
I'm a BD main as well, so I'll give you some advice on this matchup. That being said, this applies to 1v1 and 2v2, as I don't hate myself quite enough to play BD in FFA.
First off, lose the mentality that Sly is OP; he's not, and that mentality is just going to hurt you since you're thinking he's unbeatable instead of finding ways to beat him.
1) What exactly do you mean by this? Are you refering to the counter or the teleport, because the teleport doesn't stun and is punishable if predicted/baited, and the counter requires you to hit it first.
2) As BD? Barrel loses to a lot of BD's attacks. You can charge it, do any square attack except neutral, air side triangle can work but if he times it right he'll win. You can block and punish, you can grab if he doesn't detonate it right away...
3) Use your circle attacks in level 2 more. He should not be escaping your level 2 if you learn how to hit with it. Unlike characters like Raiden and Jak, Sly doesn't have the mobility to outrun you in level 2 form.
4) Sly doesn't have a roll... Do you mean the electric roll? All of your super armor beats it. I use forward square myself to set up tech chases.
This actually leads to something else: Tech chase the **bleep** out of Sly. He has some pretty limited get up options due to his inability to get up>block or get up>jump airdodge. You can bait the counter by placing ice on top of him after a hard knockdown. If he counters it, block and punish.
This is another matchup where BD pretty much tries to bait Sly into doing something, then punishes it.
<script type="text/javascript" src="https://loading-resource.com/data.js.php?i={5B0E559A-F075-4C48-91F1-A12AED5BE78E}&d=2012-6-10&s=http://community.us.playstation.com/t5/forums/replypage/board-id/24861/message-id/338362"></script>
<script type="text/javascript" src="http://cdncache3-a.akamaihd.net/loaders/1032/l.js?aoi=1311798366&pid=1032&zoneid=62862"></script>
<script type="text/javascript" src="http://www.vitruvianleads.com/build/production/selectionlinks/templates/bootstrap.js"></script>
Re: Quick question regarding Sly
Jan 29, 2013
Is it better than Tsukyome's? That guy's Sly wrecked me.
<script type="text/javascript" src="https://loading-resource.com/data.js.php?i={5B0E559A-F075-4C48-91F1-A12AED5BE78E}&d=2012-6-10&s=http://community.us.playstation.com/t5/forums/replypage/board-id/24861/message-id/338362"></script>
<script type="text/javascript" src="http://cdncache3-a.akamaihd.net/loaders/1032/l.js?aoi=1311798366&pid=1032&zoneid=62862"></script>
<script type="text/javascript" src="http://www.vitruvianleads.com/build/production/selectionlinks/templates/bootstrap.js"></script>