Reply
Topic Options
Mark Topic as New

Mark Topic as Read

Float this Topic for Current User

Bookmark

Subscribe
Highlighted
16 replies 1035 views Edited Dec 3, 2012
The characters in each tier are in no particular order as same level skilled players can use them equally as well. This list also reflects (needed)nerfs to Sackboy.
S Tier
Sly Cooper- Best lvl 1 in the game, hard to interrupt and can easily get 2-3 kills. Stealth sets him apart making him hard to kill
Kratos- Supers are not particularly over powering but gains AP very fast. Chains
Raiden- Combos can be lethal and gain lost of AP. Super lvl 1 and 2 are each top 5 lvl 1's.
Drake- Has great stage control w/ guns and barrels. Lvl 1 super is top 5 best, 2 and 3 supers just mediocre
A Tier
Ratchet- While the supers are some of the best in game, the lack of melee moves and low range on guns moves him down
Sackboy- The lvl 3 is still OP, however getting there will be hard. Look for more skilled sackboys to master his melee.
Spike- Great mix of range/traps and melee w/ stun batons. lvl 1 and 3 are week. However lvl 2 is board clearing.
Nariko- Ridiculous good combos. lvl 3 super is all worth going for, a reliable lvl 1 keeps her form S tier.
Good Cole- Some good range and melee attacks. lvl 1 is ok, lvl 2 can clear stage. lvl 3 moves too slow to clear most stages twice.
B Tier
Heihachi- Good melee combos but has no range to speak of. lvl 1 is interrupted easily, but lvl 2 is epic, can clear stage twice
Big Daddy- Nice power moves. Plasmid attacks are a pile of **bleep** unfortunately. lvl 1 is hard to aim. lvl 2/3 are easy to avoid
Radec- The beta king falls. No real mid/close range game and can be overwhelmed. Super 1/2 can be dodged but 3 is nice
PaRappa- Nice melee combo moveset. lvl 2 is great and can get whole stage. lack of a useful lvl 1 drops him to B tier
C Tier
Sir Daniel- Decent melee and a few nice utilities. lvl 1 is hard to use but easy to combo into. lvl 2/3 are trash
Sweet Tooth- Has very good utility moves and nice melee moves. lvl 1 is nice and 3 is elite but cumbersome. lvl is pathetic
Evil Cole- Decent range attacks but poor melee. lvl 2 is awful and can be rolled out of. lvl 1 is average
Dante- Should be better, nice midrange moves. lvl 1 is nice can get 2 easy. lvl 2 and 3 below average
Fat Princess- Wand attacks are nice but no great juggle AP gain moves. lvl 1/2is easily interrupted/dodged. 3 is average
D Tier
Toro- Only the Lou Kang stance is worth using and has little range. lvl 1 is good. 2 is not worth using usually gets 1.
Jak- Melee is weak w/no good AP generating combos. lvl 1/2 is hard to use and is interrupted ez. lvl 3 is hard to get but is ok
Any complaints/comments let me know
Re: My Tier List
[ Edited ]
Dec 3, 2012
Your tier list and reasons are whack and it looks like you've never played most of the characters. Toro's level 2 is one of the best in the game and easily gets multikills. Dante's level 1 sucks **bleep** unless you can empty cancel reliably. Heihachi has a very easy hit confirm level 1 that is fast and not easily knocked out of. His level 2 sucks **bleep** and is extremely easy to dodge. Nariko doesn't have "ridiculous good combos" as they're easy to get out of. Big D's level 3 is not "easy to avoid." Good and Evil Cole have the same melee attacks and yet you said one was good and one sucked. Not to mention there were so many typos and claims that make it seem like you've never played the character or seen a good one play that your reliability falls.
Although your S list and Jak at the bottom is spot on.
Dec 3, 2012
i agree with the guy above me. you said all of ratchets supers are good. have you ever tryed his lvl 2 or 3 theyre terrible. also have you ever played with or against radec? Drakes level 2 and 3 are amazing
Re: My Tier List
[ Edited ]
Dec 3, 2012
I'm curious... how exactly is it easy to get out of Nariko's combos?? Being as you can;t get out of combos and all. Heihachi can hold people in place for his level 2 also so who's fault is it that it's easy to avoid??? His
Also good cole has WAY different meklee attacks... and by way different I mean one string... crumples people for another string whereas the same one on evil cole knocks them back
Evil Cole can charge his circle making you not want to approach him at all.... full armor leading to either full combo or level 1 super give him melee capabilities until he misses... he has an easy engugh time getting away to recharge
PSN : PsYkiiiK and also FroZiiiN.... PsYkiiiK is always on PSASBR HMU for some 1v1s
Hekseville Citizen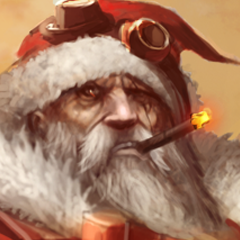 Registered: 10/17/2012
Offline
252 posts
Re: My Tier List
[ Edited ]
Dec 3, 2012
Fat Princess should be in S Tier. And AP Gains she has 100 AP plus combo's which are simple to do. Great at the controlling the game, fast, good range, stun/crumple moves etc.
"All those moments will be lost..in time...like tears in rain"

Dec 3, 2012
---

FroZiiiN wrote:


I'm curious... how exactly is it easy to get out of Nariko's combos?? Being as you can;t get out of combos and all

---
Her combos aren't "true" combos. When she changes stances to move into something else, there's a slight delay where the opponent can block and roll behind her where she's wide open for an attack. Not saying she doesn't have any "true" combos, it's just when people say she combos ridiculously, they're talking about these infinite ones that go on forever. This is why they're essentially infinite. It's because they're not real combos and thus never hit the combo max thing.
Dec 3, 2012
ratchet's level 2 and level 3 are pretty good. all these people on the forums keep saying his level 3 sucks so i decided to use it, and it's pretty **bleep** good o-o
Dec 3, 2012
Your Sweet Tooth is way too low and so isn;t our fat princess. No startup on her "assists"??? ya shes good. Radec is better than anyone gives him credit for. Bouncing nades off wals and his down square comboing into his level 1 makes him good. He has unbelievable zoning capabilities and is extremely hard to catch.
PSN : PsYkiiiK and also FroZiiiN.... PsYkiiiK is always on PSASBR HMU for some 1v1s
Dec 3, 2012
Guess I'm D Tier then. I use Toro all the time. And his Level 2 does not suck, you simply use it wrong. I wait until the enemy has bunched up alittle and let it lose. 3 kills all the time. Main reason I use the Level 2 instead of Level 3, I can get it faster with the same amount of kills.
Deadly Neurotoxin!