Reply
Topic Options
Mark Topic as New

Mark Topic as Read

Float this Topic for Current User

Bookmark

Subscribe
OrderlyChaos87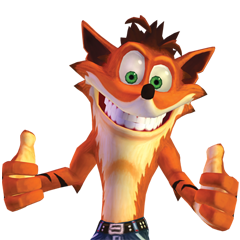 Offline
I still have my pre-order and it's already paid off. everything about the game that has been shown has been great and most of the reviews from the people on this forum that have actually had a chance to participate in the beta are really good with some minor things. From the first unveiling before E3 to the improvements to the sound, graphics, HUD, music have been way better and they've been working. Yes the roster isn't what we expected mostly because we all have our own wishlists but to say it sucks because of that is just ignorant. I mean I still want Crash, Snake, Ico, Tomba, Hale, Sora, Spyro, Cloud, Wander and who knows MAYBE they are on disc or maybe they are DLC. If not I'm still getting the game, because the game still interests me.
Everyone here needs to stop making the analogy to other fighting games when it comes to character roster. The only reason this roster being small is a big deal to people is bbecause the exclusions so far of the names i've mentioned above. But fighting games that are brand new IPs that have original characters the roster size is not a huge issue because they are characters we dont' have a vested interest in because we are being introduced. Persona 4 Arena has 13 characters 2 of which is a good and evil version of one character but she plays totally different. but since its from 2 franchises I love I was wondeering where 4 characters were but it didn' ruin the game for me. Wwe have 2 months still release, a couple of conventions, we still need to see the remaining 3 leaked stages and the 3 TGS stages in action. I still think we will have a good one on our hands.
Highlighted
Glad to see some of you agree. And even better to see a lot of you disagree. I stated where I stood personally and it's not going to change. From a gaming perspective after playing with the 6 I have played with I still had fun. 14 more will be even funner.

I also don't really care about the cast. No one I personally wanted in made it. But that's fine, I think that future entities will correct that. I love Kat and Raven from GR I wanted them in. Again, I understand the anger but this is a beginning to a great option in this type of genre.
Now, I'm not mad at the lack of female characters because in smash bros (that's the closest compareable genre) was pretty much a sausage fest. Only Peach and a half ice climber. I didn't complain there won't complain here