Reply
Topic Options
Mark Topic as New

Mark Topic as Read

Float this Topic for Current User

Bookmark

Subscribe
Highlighted
7 replies 390 views Edited Jun 15, 2012
Hello.
Arcade mode is something I came up with while reading the zombie thread and thought "Hmmm, how else could this game innovate?
When I came up with it: Arcade Mode.
Arcade mode has mini-games and different unlockables.
So, without further ado:
ARCADE MODE
1. Hot potato
Hot potato is played with a TNT or Nitro crate from Crash bandicoot passed around between the multiple players. When it finally goes "Boom", the player is removed from the round. Note that the crate will not count down, so perhaps a Nitro Crate would be better.
This mode unlocks the following:
Trophies
- Boom!- Be the last player standing in a Hot Potato match.
Skins
Nada
Stages
Nada
Characters
Nada
2. Heartless Battle
Heartless Battle takes place on a Castle 13-esque stage, in which you and other friends battle heartless to see who can obtain the most hearts, or "Points". Whoever has the most hearts at the end of the match wins.
Trophies
Kingdom Hearts, Open!- Win a Heartless Battle match.
Skins
Organization XIII Coat, or perhaps a nobody-themed suit for characters who wouldn't... quite... "fit"... *Cough*Big Daddy*Cough*
Roxas for Sora
Stages
Castle 13, crossover being the Nymphs from Rayman in there somehow.
Characters
Nada
Anybody have any more Ideas?
I sell propane and propane accessories, I tell you h'what.
Jun 15, 2012
Are kingdomhearts chars even confirmed? did I miss something?
--------------------------------------------------------------------------------------------------------------
"I was faithful to Radec from the beginning!! How many others can say the same?!"
Jun 15, 2012
No, you missed nothing.
But they probably will be, and in the case that they aren't, Heartless Battle doesn't have to exist.
I sell propane and propane accessories, I tell you h'what.
Gaming Beast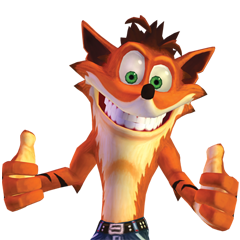 Registered: 06/07/2012
Offline
2026 posts
Jun 15, 2012
I was considering adding Heartless to the zombie mode ideas because I think the would fit in in the swarm fighting-wise but aren't exactly zombies. Both good ideas, but do need a lot of polishing like said before.
gayman________69
Monster Hunter

Registered: 01/04/2014
Offline
36 posts