Reply
Topic Options
Mark Topic as New

Mark Topic as Read

Float this Topic for Current User

Bookmark

Subscribe
Highlighted
Ape Escape complaint and friend request
3 replies 150 views Edited Nov 24, 2012
So when I played through the PSASBR beta around a month ago, I suddenly remembered how fun the ape escape games were and decided to buy an Ape Escape game for my ps3, so I searched through the ps store and found a game called 'Ape Escape'
(with nothing else in the title) I was convinced this had to be the original ape escape game for the ps1, I checked and it didn't say anything about it being a ps move or a psn version so I bought it. Now that I installed it today and tried to enter the game, the game said that I required a ps eye camera to play it, which confused me.Then I went back to the store and checked the page for ape scape once again, didn't see any information about it being a ps move game until I pressed the 'read more' button in the description (which only contained the story at first) and THEN it said with a tiny font that it was a move game and that it was impossible to use an ordinary controller.
It is ABSURD that there is barely nothing that indicates that this is a move game and not the original!!! I know the picture for the game is the ape scape ape holding a move conroller, but it is so well hidden by the hand that I didn't recognize it, and there was some avatars and backgrounds further down the page which said playstation move on them, but I didn't scroll down to check since I knew it wasn't any interesting material there that I would buy anyway, so there was simply no way for me to know this.
I do not want to pay more money to play a move game, and I do not wish to keep it, so I was wondering is there was any way I could get my money back for this game. Can I complain about this to sony, or will they just ignore me? I still think it is retarded that this was not indicated anywhere at the front page of for the game NOR in the title so I want my money back.
About all stars though: I don't have any friends on psn who plays this game, so is there someone from europe (I'm from europe, so I want to play with people close to where I live, since this will most likely give me better connection) who wants to add me to their friends list? That would be awesome
n0rmal94
Uncharted Territory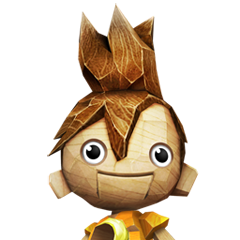 Registered: 07/18/2012
Offline
1273 posts
Re: Ape Escape complaint and friend request
Nov 24, 2012
In the US psn it says Ape Escape move or something. If its a digital game, you can't get you money back.
They haven't put the orignal Ape Escape for the psone classics which its odd since Japan has been having it for a long time
"I'm watching you in the shadows........nah im right next to ya"

Re: Ape Escape complaint and friend request
[ Edited ]
Nov 24, 2012
Unless some else used your credit card for the purchase no your stuck with ape escape move and ape escape 1 is only downloaded in the Japan psn store sorry
Re: Ape Escape complaint and friend request
Nov 24, 2012
I just did some research, and yes you are right. The american version is called playstation move ape escape, while the european version is simply just titled Ape Escape. Why would they do that, that's just pure evil!!