Reply
Topic Options
Mark Topic as New

Mark Topic as Read

Float this Topic to the Top

Bookmark

Subscribe
Highlighted
Why are people so accepting of pre-order exclusive content?
13 replies 232 views Edited Feb 3, 2013
Get this: My main console is the Vita and I just got my first PS3 two months ago, but even though almost all of the Vita's games this year appeal to me greatly I do not want them. Why? It's simple, they're tainted with pre-order exclusive content.

Pre-order exclusive content is one of the most anti-consumer practices in the industry, punishing gamers who didn't pre-order the game(95% of purchasers) by locking out some of the content(sometimes just useless but cool outfits, sometimes items that impact gameplay). All that just to try to make more money on day one, before any discounts or negative reviews pop up to influence the Metacritic score of the title.
Playstation All-Stars is the game I was most excited for throughout 2012. I would've owned it on day one, but I decided to make a much larger Playstation purchase first- a PS3. This left me with insufficient funds to cover the All-Stars purchase, so when I missed out on the pre-order content just because I wanted to spend much, much more money toward a Playstation purchase I was VERY bothered. I actually would've purchased All-Stars for $60 if they didn't cut out content, punishing me just because I wanted to spend more than three times as much money on a PS3. I lost all hope of buying the game at all, but then they lowered the game's price to $40 and released the pre-order content as paid DLC. I thought, "hey, I obsessed over this game since it was announced and they're kinda not cutting out some of the content now, why not?" and paid up. My experience still feels a little hollow just because of their greedy decision.

I can look past the All-Stars experience, but what exactly do I look forward to? Every single Vita game I'm excited for this year has pre-order exclusive content, and it's not all just outfits. Sly Cooper: Thieves in Time? Outfits. Ninja Gaiden Sigma Plus 2, sequel to one of my favorite action games ever, best version of the sequel I never had a chance to play? Exclusive outfits. Soul Sacrifice? Outfits and exclusive items, plus you get the Japanese language track that would later cost money. Killzone Mercenary? An EXP booster and some suitcase of stuff(not very clear yet). I'm sure Tearaway will end up with pre-order exclusive content at this rate. Even over on my PS3, pre-order exclusive content is everywhere- in God of War: Ascension, The Last of Us, etc. Don't get me wrong, I love Playstation gaming and I think Sony's still the best publisher in the industry by miles, but this really has to quit. It's disgusting.

My initial plan was to just boycott every game with pre-order exclusive content(I quit PC gaming last year altogether after boycotting the extreme DRM tainting that segment of the industry, so I mean srs bizniss), but I decided that wouldn't do much to fight it and my lovely Vita, best handheld ever made, would quickly become a paperweight if I went that route. Maybe I'll make a conscious effort to only buy these games with pre-order exclusive content used, maybe I'll wait until they get a price drop AND the developers release the content on PSN free or for a fee. Either way, I needed to get across that this is an unacceptable industry practice, had to speak out against it.

Is anyone else here mad about pre-order exclusive content? Every time I read someone say that their pre-order is now assured *because of* the content I get so angry, I just can't help but think that they're the cause of this plague, that they're uninformed consumers that should spend a few extra seconds thinking before they throw their dollar votes at such companies. If they wanna do pre-order exclusive content, make it a map like with Skyrim, or a system skin like with Persona 4: The Golden. Don't lock content out of your game maliciously just because your customers, your fans didn't pay up on time. That's sick and demeaning.
Arkthur_us
I Only Post Everything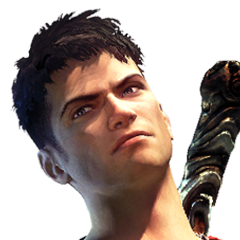 Registered: 05/11/2012
Offline
1042 posts
Re: Why are people so accepting of pre-order exclusive content?
Feb 3, 2013
Pre-oder contents are just there to reward people who paid for the game early. And they mostly consist on (as you said) worthless DLC like skins, or buffs, except maybe for DmC wich brings a piece of story content for it.
Some retail shops accept a fraction of the price for pre-order, so you can buy the game giving less money at a time and you get some bonuses for it. But make no big deal for it, you aren't missing of anything good, and most of those content comes as DLC later, if you think they are ripping youoff with these,wait til the price of the game drops and there you have it.
Pre-order bonuses aren't new, they have been around as incentives for years and, in some cases, aren't important pieces of the game.

Re: Why are people so accepting of pre-order exclusive content?
Feb 3, 2013
Some preorders also have extra levels or two for the preordered game that are available no where else. Sometimes these extras are exclusive for a short while and sometimes forever. When reading about a game that you're interested in purchasing, search for what extras you may get if you preorder it and decide if preordering is worth it.
Additionally, preordering a game (generally) guarantees that the store will have the game for you come launch day. Often a highly anticipated game may end up sold out within minutes/hours and not be available from that store until the next shipment arrives. For this reason, for many people, preordering is a nice service.
The way you play the game is the way you live your life.


Re: Why are people so accepting of pre-order exclusive content?
Feb 4, 2013
I'm sorry but I don't agree with you Facelaud.
Pre-order exclusives have been around for some time now & are not new.
Tainted, I'm not quite sure why it is you're using this word in particular, it is also in my view not anti-consumer, gamers are not punished they are rewarded with the extras for ordering early, in any even most of not all of the pre-order bonuses become available at some point down the line as DLC, all the developers & publishers are doing is offering a little tifbit for those of us that do want to pre-order & have that game delivered to our homes on release day, like Sly 4 will be for me in 2 days!
Customer Service - 1-800-345-SONY (7669)
Account & billing Support -1-877-971-SONY (7669)
Available Mon to Fri 8am - 8pm PST

Re: Why are people so accepting of pre-order exclusive content?
Feb 4, 2013
In my area where I live, there is no point to pre-order. The stores always have the games in and never run out.
I don't see the point for pre-orders unless you live in a bigger area and want it sooner.
Most of the extras you think you you 'need', you don't really actually need them. You can also buy a lot of extras off of Ebay at a very low price since people re-sell the extra items/codes to redeem.
Battlefield 3 had a poor pre-order exclusive content.
As of right now GTA V you get some lame plastic thingy to look into and see one of the new main characters.
Re: Why are people so accepting of pre-order exclusive content?
[ Edited ]
Feb 4, 2013
Many of you guys don't seem to get it at all. It's not about me missing out on important stuff or whatever, it's that it's evil to cut out some content, any content at all, from your game just to punish future purchasers for not buying on day one.

You guys keep saying that pre-orders have been around for a long time; yeah, obviously, but not at this scale. Pretty much every worthwhile game has pre-order exclusive content right now, this hasn't been the case in any previous console generation. Publishers are going overboard, and if all of your comments are anything to go by gamers are oblivious. I bet you guys'll be totally fine with any hardcore DRM the console manufacturers start to implement on a massive scale, as long as they pretend that you benefit when in reality a large portion of gamers are punished over it. "Well I wasn't punished, that means I benefited." No, that's not how it works. At all.

The "lame" pre-order exclusive items from GTAV are the best way to handle the situation. It doesn't cut out any software content from future purchasers, just gives pre-orderers a trinket. That's how it should be in every single case.
Re: Why are people so accepting of pre-order exclusive content?
[ Edited ]
Feb 4, 2013
The simple thing to do is, if one does not care to preorder, one does not have to. Let the rest of us become suckers in the marketing campaign.
One of the reasons for preordering, as pointed out, was to have the game available the first day of release. In some cases, before it's sold out. In other cases, to have it delivered directly to our door. This "sucker" calls that "convenience".
The way you play the game is the way you live your life.


Re: Why are people so accepting of pre-order exclusive content?
Feb 4, 2013
You're wrong, we get it perfectly fine, we, well I just don't care.
Again they are not being punished, & as I said in my response, future purchasers will have the opportunity to purchase most if not all the pre-orders available to day-one buyers as DLC once the game has been out for a few weeks or so, it's an incentive to day-one purchasers, nothing more & nothing less, it is also not a discentive & it is certainly not something evil!
I've really nothing more to add.
BRIT-KO.
Customer Service - 1-800-345-SONY (7669)
Account & billing Support -1-877-971-SONY (7669)
Available Mon to Fri 8am - 8pm PST

Re: Why are people so accepting of pre-order exclusive content?
Feb 4, 2013
I disagree with your perspective that pre-order is "cutting out content." Pre-order bonuses and DLC are all additonal content from the release title. They add to the game. If you don't get it you are not missing out on anything (although that's what they want you to think so you buy it = marketing) .
I pre-order occasionally and it has nothing to do with DLC. It has to do with me wanting that particular game on day 1. I most often ignore the DLC and pre-order bonuses. If I get some cool! If not. I got the game I wanted. I'm buyin the game NOT the add-ons.
So in short I agree with others that no one is getting "punished." People who want to secure a copy early and have it upon release and secure sales for the game developers get a reward. You all get the same game, those who chip in early get a bonus.
It's like a payment plan like at a gym sort of. One month is say 50$ but if you buy 3 months in advance they give you a 25% discount or a month free. Same thing.
Re: Why are people so accepting of pre-order exclusive content?
Feb 4, 2013
Sometimes pre-order bonuses really cuts out content. It's the sad truth. Sometimes pre-order bonuses are new chapters/levels in the game and not just some costumes. It's not cool that developers cut out content before the game is released and sell it as DLC. I can understand DLC if the new content isn't ready by the time of release but making more money by cutting out content is unacceptable.
Sadly, I accept it. It's the trend nowadays. I pre-order games and get pre-order bonuses but it shouldn't be so. Usually the bonuses are something silly as costumes so it's not a big deal.
"How do you prove that you exist...? Maybe we don't exist..."