Reply
Topic Options
Mark Topic as New

Mark Topic as Read

Float this Topic for Current User

Bookmark

Subscribe
Highlighted
Concepts for a Mar trilogy
[ Edited ]
10 replies 3597 views Edited Jun 10, 2013
A tl;dr version has been added below this post for your convenience.
A common request from fans of the Jak and Daxter trilogy is for a new game in the series. Usually, as fans, we will ask Naughty Dog to make a "Jak 4" and follow this request with a long slew of random ideas (some good, some not-so-good) that tend to sound good enough as individual concepts but will need much more effort to sound like a true Jak and Daxter game. People often come up with ways to reintroduce Gol and Maia, or Kor, or the Dark Makers, ways to take Jak back into the past, pitch him against nigh-unbeatable odds in a fight to save the world. There are many great ideas out there and there are equally many bad ones, I'd just like to share with everyone what I would see as the perfect sequel.
You are all open to share your ideas and expand upon what I write, I'm just saying something I think needs to be said.
The Mar Trilogy

Jak and Daxter have saved the world at least 3 times, and in every game Naughty Dog produced we saw something that truly makes stories great: character development and world building. We've learned much about Jak's past, we've seen him grow up from a silent little boy into a warrior that single-handedly takes on entire legions of enemies, and we've seen the other characters grow as well. The little world Jak knew as a child expanded from a few quaint villages along a peaceful coast into a sprawling dystopia and a world of walled cities, harsh wastelands, dangerous jungles and glacial fortresses
What we need to see from the next game is a deeper look into the world Jak and Daxter live in. There are hundreds of loose ends that could lead on into the next game and dozens of new places in the world that we could explore in the new quest but if this is going to be a truly great game then what we need to see is something that brings the cast of characters and world we love into a new and exciting story. What will make the next Jak and Daxter truly great is if we start to expand into Jak's transition into Mar and the struggles he faced as the guardian of Haven City. So, without further delay I present my idea for the first game.

1) The Darkness Calls


We start the story 5 years after the events of Jak X. Jak has changed considerably, he spends most of his days in the New Haven City Hall searching through the old Palace Archives for answers about his family and possibly himself. The Dark Eco within him is starting to affect his health, as the Light Eco needed to keep it at bay is becoming a rarer and more expensive commodity. At night he is tormented by dreams of the Green Sun and a clouded figure who's dark voice calls him to travel south to the mountains.
Kiera worries about him but they don't see one another as often as they used to and she is busy with work as the chief engineer of Haven's automotive industry. Daxter drops by once in a while and continues to run the Naughty Ottsel and Tess is expecting her first child (terribly worried about how to properly raise a Precursor infant). Sig's leadership has made Spargus the jewel city of the wastelands, having expanded over the island's southern ruins and begun mining the rich seems of the volcano. Rayn, on the other hand, has set Kras city on fire and criminal organizations across the world are reeling from grievous losses. Ashelin, Torn, and the others have all gone off to their own callings and so our hero, Jak, has been left mostly alone in the world.
Then the meteor hits.
A large piece of the Dark Maker terraformer ship crash lands in the Marauder icelands after circling the world for the past 6 years. At first no one is really sure what to do, afraid of approaching the corrupted Precursor technology, but as Metalhead armies begin moving towards the site it becomes clear that someone else will need to get there first. Suddenly everyone is after the ship: Rayn's best mercenaries are headed south to retrieve it, Torn and a Freedom League black ops squad are moving in on it, Marauders are desperately trying to secure the site and protect their homeland, and Jak feels compelled to join in the race for the ship.
Jak travels southward along with Daxter and Kiera, forced to sneak a zoomer out of the city as the skies are thick with Metalheads moving towards the south and all available aircraft are under Ashelin's command. Samos helps the group via communicator as they continue to move into the icelands, battling Metalheads, Marauders, and Kras Mercenaries. The group eventually reaches the gates of Icebound Citadel to find an all-out war between Spargus' armies and the Marauders outside the frozen city. Jak teams up with Sig and his men to break inside the citadel as it is the only passage south to where the ship crashed.
When Jak and his allies arrive at the crash site, Rayn's mercs are already inside and Metalheads are swarming the area. Jak battles the Metalhead queen leading the armies, not managing to kill her but still breaking inside. Within the ship Rayn's mercs are holed up in the engine room with all the entrances heavily blockaded. Jak and Sig break in to discover that the mercs were escorting a group of Dark Maker cultists to this place so that they could steal the useful technology (aka: weapons) inside and bring it back to Rayn for a massive payment. Instead, they activate a distress beacon on the ship that directs the entirety of the Dark Maker Armada to the planet. Jak turns into his dark form and slaughters everyone in the room, then proceeds to have a mental break down.
On the walls are huge monitors that display the locations of every Dark Maker ship in the galaxy, their numbers tally in the high millions.
Word gets out about what has happened and the world flips upside down, Torn and his men arrive fashionably late and offer Jak a ride back to Haven City. Kiera stays behind with Sig and the Wastlanders so she can study the ruins of the ship for a way to keep the Dark Maker ships away, offering Jak a bittersweet goodbye. On the flight back with Torn, Jak has more nightmares, this time the figure has become clearer: an old woman, probably in her late fifties, and wearing similar clothes to the cultists. In Haven the city is on complete lockdown and the Metalheads are attacking the walls on all sides. Ashelin demands Jak explain what's going on and once Samos and Onin arrive they begin plans to get out of this mess.
Jak remembers reading in Mar's journal that there existed a weapon powerful enough to destroy the entirety of the Dark Maker race but the Precursors had hidden it beyond his grasp. Onin knows the weapon that Jak is speaking of and reveals that it is hidden at the core of the Green Sun.
Kiera returns to tell everyone that she can't rewire the beacon to keep the Dark Makers away and that some ships are already headed slowly towards the planet. She did however manage to study the ship's engines and discover that it would be possible to replicate them. Jak and Daxter head off to search for the materials necessary to build the engines, fighting through the heart of Metalhead territory and facing off against Dark Maker cultists. The duo travels deep into the eastern jungles searching for the last piece, the Heart of Mar, and they come across a great Precursor temple that has been desecrated by the cultists. Jak finally sees the face of the woman in his nightmares, and is horrified by who she is.
The woman he saw was his own mother and from her necklace hangs the Heart of Mar.
His mother tells him that this has been the plan since the beginning, to create a human capable of wielding all forms of Eco so that the "dark lords" could be reborn. The hidden hands of the cultists had been behind every catastrophic event in the planet's history, aiding the Metalheads in their attacks on cities and sending a signal to the Dark Maker ship, all so that Jak would be standing where he was now. Only the energies of a Precursor robot were capable of opening the Dark Eco silos, and within Jak those energies were manifested in their purest state. Before Jak knows what his mother is doing she places his hand on a device and a huge surge of Dark Eco overcomes him, sending him backward. Below them the Dark Maker cult stands in a wide circle around the silo, watching as it is opened and giant bolts of energy fly outward, some striking a few chanting cultists and killing them instantly. Jak, in his enraged dark form, strikes his own mother to the ground but she remains smiling, laughing despite the bleeding gash across her face, for she knows that she has won. Jak and Daxter escape with the Heart of Mar, not looking back to see what emerges from the silo.
In Haven City the rocket ship, painted in Freedom League blue, sits incomplete atop the city's fortress. Jak gives Kiera the jewel and then the three of them board the rocket, Kiera silencing Jak's protests with a kiss. Sig and a few soldiers get on the ship as well and Tess barges onto the craft, refusing to let Daxter leave without her. Before they launch Samos informs them that Metalhead activity has been eerily quiet and that they may be attacked when they liftoff. Instead, they are attacked by a massive Precursor robot that has emerged from the silos and is infused with Dark Maker weaponry. The robot follows them out of the atmosphere, attacking their ship, and Jak, Sig, and the soldiers on the ship struggle to gun it down. Just when it looks as though the robot will win, Metalheads swarm up from the planet and drag it back down with them. Daxter remarks that he doesn't know what's just happened and Kiera responds to him that its obvious, the Metalheads have been trying to stop the Dark Makers all along.
After a few long hours of flight, our heroes arrive at the Green Sun far beyond the solar system's outer planets. The sun is revealed to be a Precursor space station, meant to generate a defensive shield for the planet but having died long ago when the Precursors and Dark Makers were last at war. Onboard the station no signs of life are found and the halls are empty of anything that could be Mar's rumoured weapon, until at last they come to a massive chamber containing an inactive Rift Ring and a hologram projector. When they approach, the projector activates and a message recorded by Mar begins to play. Mar is older than Jak by at least three decades and the gun in the Metalhead nest can be seen incomplete behind him. He looks weary as he talks about the Rift Ring in the chamber, lamenting that for all his efforts he could not escape the destiny that history had already written for him. Tears stream down his face as he apologizes to Daxter and Kiera for having failed them, but there was simply no other way. He says a prayer to the Precursors and the message ends.
The Rift Ring activates, a small pod is lowered into the room only big enough for Jak. He says a long goodbye to his friends, holding a distraught Kiera in his arms and promising to return. Once inside the pod Jak is flung through the gate and into the distant past, hoping that he will be able to keep his promise and save the world once again.
We see a bright streak of violet light soar across the sky and fall onto the sandy shore of a peaceful island. To the East, dark clouds are beginning to form over the rocky mountains of a tropical peninsula.
2) & 3) I'm still working on ideas for these. Leave yours, I'd like to hear them!
Some Q & A
Q: Is this a linear storyline?
A: Not really. One of the better things about Jak and Daxter is that more than one mission is available at a time, there would be plenty of opportunities to shake up the order of events a bit when completing missions outside of the major boss fights.
Q: Will you be able to return to areas after you've been through them already or finished the game?
A: Absolutely! Aside from the final mission, which is in space, you'd be able to return to every area after you were done there to collect the collectibles and explore the explorables.
Q: It doesn't sound like the player will be prepared for the final boss fight, what with it being the only time we fly a rocket and all.
A: the mission will be oriented fairly similar to the Jak 3 mission where Sig drives the car while you shoot Metalheads, with the added difficulty that you're driving the car as well. There would be zoomer missions earlier on that follow the same mechanic.
Q: Will there be sound in space?
A: No, that's stupid. There will be sound early on during the first mission and radio talk from your allies on the ship, a lot will get quieter as you leave the atmosphere being replaced with some eerie boss fight music. It may even be cool to have Jak leave the ship in a space suit and fight the robot face-to-face.
Q: What guns and powers is Jak getting this time? Will he have his Precursor armour?
A: I'd like to see Jak with the standard 4-form morph gun to start, expanding into completely new weapon mods that merge each eco with the ones beside it like "red-dark" "blue-yellow" and "dark-blue". Jak should have the first two of his dark and light forms' abilities but expand (again) into all new merged abilities. I'd also like to see him with an eco-powered sword. Jak will set out without his armour (+0 hp), Sig will give him a Wastelander set when they meet up (+2 hp), and Jak will get back his Precursor armour in Haven (+4 hp).
Q: What will we do with the orbs we collect?
A: I'd actually like to see the secrets section expanded into a more shop-like system in which Jak can purchase important upgrades for his weapons but also things that are purely for looks such as different looks for his clothes, armour, weapons, vehicles, etc...
Q: What if I think this is a dumb storyline?
A: This is just a first draft, it isn't even close to done! Write your better ideas below and prove you know Jak and Daxter better than me if you're so smart.
Q: Do you honestly think that Naughty Dog would ever make this storyline?
A: No. It would actually be a tad ludicrous if they made this storyline because at the first hint that this was the direction they were taking this post would spread like wildfire and everyone would no how the game ended before they bought it. This is merely to prove something: Naughty Dog claims that they are having trouble coming up with a new storyline but there are a million directions that the game could take if they would only stop, play through the games, and then brainstorm.
Re: Concepts for a Mar trilogy
Jun 10, 2013
tl:dr version
It has been 5 years and the Dark Eco inside Jak is starting to affect his health and give him nightmares. Suddenly a piece of the Dark Maker ship from Jak 3 crash lands in the Marauder icelands, and the Metalheads start swarming towards it. Everybody starts racing towards the site: Kras city sending mercenaries to find weapons, Spargus and Haven to fight off the Metalheads, and the Marauders to protect their homeland. Jak, Daxter, and Keira take a zoomer out of the city and start moving towards the site, battling Metalheads and Kras mercenaries along the way. They meet up with Sig and break into the site together, discovering that the Kras mercenaries are already inside. The mercenaries were escorting Dark Maker cultists there to find the weapons they wanted but instead the cultists activate a distress beacon on the ship, telling the other Dark Makers what happened on this world.
Torn arrives and takes Jak and Daxter back to Haven while Keira stays behind with Sig to study the ship for a way to stop the Dark Makers. Jak has more nightmares on the way back to Haven, seeing a strange woman in them who looks familiar. In Haven the city is on lockdown and being attacked by Metalheads on all sides. Jak helps protect the city and then talks with Ashelin, Samos, and Onin about a plan to save the world. Onin says that there is a weapon in the core of the Green Sun that could prove useful, so they need to find a way to get there. Keira returns and tells everybody that the Dark Makers cannot be stopped but that she can recreate the ship's engines to make a ship to take them to the Green Sun.
When getting one of the parts Keira needs to build the engines Jak encounters the woman he saw in his nightmares, which turns out to be his own mother. She tells him that he was born so that the "dark lords" could be reborn and the Dark Makers conquer the world and come one step closer to destroying the Precursors. She uses his powers to open the Dark Eco silo, releasing the "dark lords" and Jak flees with the part Keira needed before he sees what comes out. They get to Haven, Keira finishes the rocket, and then they blast off towards the Green Sun. As they leave the planet, a giant Dark Precursor robot flies towards them, trying to shoot them down. The ship is almost destroyed but at the last minute Metalheads rise up and attack the robot, dragging it back down to the planet.
The Green Sun is discovered to be a dead Precursor space station, onboard they find a holographic recording from Mar and a Rift Ring. Jak realizes that he has no choice and must step through the ring alone. He says goodbye to his friends, promising to come back, and then goes through.
Re: Concepts for a Mar trilogy
Jun 11, 2013
wow good work really i honestly most say that i thought something similiar and so hear my not so diferent ideas.
The hard question that i'll ask is are counting with The Lost Frontier? because if not its ok, but if so more explaining need to be done.
Ideas
- i cant say i like the idea of a piece of darkmaker ship has fallen, but something similiar can work
- jak's nightmares, i thought something a like but it was more of a "dark hive mind" the ones touched my the darkness share some kind of bound, and would be later discouvered that metal heads had this and with it metal heads have a ever lasting memory of the past, even if it was millions of years ago and could explain why the metal heads being dark creatores hated the darkmakers ( a concept that i already though but i really dont want to write it, to lazy)
- i dont like as well the dark eco in jak killing him, lets say like the lost frontier because of the dark activity, its har for jak to transform without being hurt altough he is stronger
- i most confess i didnt like the green sun, but at the end i actually loved the concept ( one more thing most people dont know, in a script cut, when jak meets sig at the under water port, sig tells jak that mar came to this place long ago with his ship called Time Cutter, if you search the forum you might see it i post it myself but no one gave a craap)
- the dark cultist i already though of something like that but was more like a whole city didacated to the evolution of dark eco (like the Aeropans) but the city was in a civil war because some didnt like the idea of dark eco running throw their veins etc etc
- scrap the jak's mom thing, it look like you just putted their to say this is jak's mom lets move on, a more elaborate concept is required
- i think kras city shouldnt be something to deal with, yeah i like the idea of the mercs but it would be better if they were the same thing as the marauders
Question:
are you saying jak is mar?, because i dont like the idea, for me jak when he travels to the past he finds a boy and teach him every thing he knows later realising that this boy would be the Mar.
was gol and maia in the precursor robot?
Mentions.
i like the sword idea there is the green eco sword, the sword of haven city, Praxis had it, in the statue of mar the shape is the same so basicly the mar's sword passed along city rulers
Time cutter ship as i said before, search the forum if you want is not that far.
only 4 guns, eco powers, ships, cars, ships etc etc
and for now its all i can say, i'm not a script guy i prefer drawing concepts for the impossible game.
and sorry for bad english and mistakes
Re: Concepts for a Mar trilogy
Jun 12, 2013
Rafasc94, I like where you're going with some things.
-Lost Frontier won't be considered cannon because it actively breaks the canonical structure of the story, taking place before Jak X and resulting in many events that would have been mentioned in X but are not.
-The piece of the dark ship falling was just an easy way to bring back Dark Maker technology, something else could definitely work though.
-I've always thought that the Metal Head "Skull Gems" were part of a telepathic link throughout the entire species. I imagine that the Metal Heads and Dark Makers hating eachother was more about how after the Precursors were defeated, they still wanted more territory and starting fighting eachother for it.
-The Dark Eco inside Jak isn't killing him, it is just starting to become less controllable as is its nature (Gol didn't go crazy for nothing!). It isn't too big a part of the story and Jak's dark pwers are not hindered, in fact it likely isn't necessary.
-If it was cut from the script it really isn't that big of a retcon. I always wondered why there was a Green Sun and what it was for, so I made up this.
-An entire city of the cultists might be a good idea, when I thout it up they were just the opposite of the Precursor monks: no powers just extreme dedication to their dark masters and a highly intimate knowledge of the dark technology.
-I agree on the mother thing, a bit rushed. I'm not sure where that idea came from.
-The idea was to bring Rayn back into the picture from Jak X. The mercs would be the opposite of the marauders and add more depth to missions when you had to fight paid mercenaries with the best weapons money can buy rather than barbarians with scrap metal armour and swords.
-I am indeed saying that Jak is Mar. I see too much evidence to support this in Jak 2 & 3 for it to be false. This is only my opinion of course but it just seems to me that the "reveal" at the end of Jak 3 wasn't a big fat lie to the fans' faces from Naughty Dog. The whole Jak/Mar thing is speculation for now, but I have some ideas for how it could work (more on them later).
-Gol and Maia were not in the robot, it was under their control though.
-The sword Praxis had was alright, and I'm sure that it would have bee very effective against Metal Heads or Dark Makers (since Green Eco and Dark Eco like to destroy each other) and unless there's a better idea out there this is the sword Jak will get.
-A time-travelling ship could be introduced in the second game but first I wanted to see Jak put into a situation beyond his control, put him into a fight he can't win and see what the hero does then. A ship that could time jump would be a way to solve one major problem (the ring is in Kor's nest, Mar can't get in the nest, therefore Mar can't use the ring to time-travel) but I'd like to look for other ideas.
-Limiting the guns, ships, eco powers, and cars to 4? It would depend on what they are and what they do really. Weapons more powerful than Jak 2 but not as overpowered as Jak 3 (Metal Kor took me many tries while Cyber Errol was a cakewalk). I'd want to put cars and ships in the same category actually, the only vehicles I had planned were the spacecraft and a few heavy duty zoomers, no need for wheeled cars like in Jak 3 & X.
I'm glad that you've shared your ideas, and would certainly like to hear more in regards to what you think the direction the game should take is, maybe expand your ideas a little more about who is Mar if not Jak and the Metal Head vs. Dark Maker thing.
Also...
As an alternative to the above story I had thought about one in which another time-travel falls from the sky (like what happened in the beginning of Jak 2) and it is a man who looks almost like Jak and claims to be him from a timeline where Kor was victorious. He claims that everyone is dead in his time and he needs to go back and fix things, so they travel the world collecting artifacts to create a new Rift Ring. Slowly Jak and Daxter start to realize that he may not be who he says he is because he doesn't remember key events from Jak and Daxter's past (Gol and Maia, Where Mar's tomb is, the fight with the Dark Makers, etc...) and they begin to worry if they should be helping him. At the end before the gate is finished he reveals himself to be one of Kor's most powerful commanders in disguise, and he needed a new Rift Gate so that Jak's world could be connected to the other Metal Head planets and taken over. Jak and Daxter fight him but the gate is still activated and Jak and Daxter fall into it, sent to one of the Metal Head infested worlds.
This is of course based on the theory that without a Time Map the Rift Rings would act like planet-to-planet teleporters. I don't know what would happen for the sequel to that, maybe Jak's friends secure their end of the gate and send their best soldiers through to rescue Jak? I don't know. Just an idea.
What do you think?
Re: Concepts for a Mar trilogy
Jun 19, 2013
The Next trilogy takes place between Jak 1 and Jak 2, when Jak founds the city of haven. This can be accurate to the story because when Jak enters the Precursor "Spaceship" in the end of Jak 3, which could lead to the theory that he went with the Precursors, went back in time [between TPL and Jak II] and lived as "Mar", and then the Precursors sent him back to the time he left Daxter, in the age he left his companion - he would travel by a Rift Gate to a close time and location, hide the Rift Gate and go to the place where he left Daxter, appearing in the time his younger self was leaving.
Re: Concepts for a Mar trilogy
Jun 19, 2013
I've heard this theory and personally, I dislike it. Mainly because of why Jak got on the ship in the first place.
Originally, the writers had planned for Jak to just get on and leave with the Precursors but they felt that this ending wasn't strong enough. They ran through some ideas and eventually decided to bring the story full-circle from the beginning of Jak 3; just like Daxter didn't abandon Jak to die in the wasteland at the beginning, Jak didn't abandon Daxter and have his own adventure.
Jak told Daxter that he wouldn't abandon his best friend, I find it poor character developement (in fact REVERSE character developement) to have what Jak said turn out to be a lie and give him his own adventure without Daxter. This is my own opinion, but I do think that most people would prefer to see Jak and Daxter together if a Mar game was made, rather than seperating duo.
P.S. I'd rather see that cry-baby warrior from Rock Village turn out to be Mar than have this theory become canon in any way ever. I would personally burn every Jak and Daxter game I own and use the melted remains as a toilet brush. I think it's dumb.
HM01_Impaler
Uncharted Territory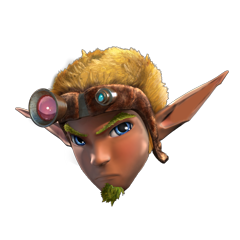 Registered: 07/08/2012
Offline
1582 posts
Re: Concepts for a Mar trilogy
Jun 20, 2013
Just a few unorganized ideas about the future of Jak and Daxter...
- So Jak X is canon and Lost Frontier is not? I like that.
- Would Naughty Dog make future Jak games? I wouldn't hate it if Sanzaru took over the franchise.
- The return of Gol and Maia in some form is a must for me.
- I believe Jak is Mar
Re: Concepts for a Mar trilogy
Jun 20, 2013
You can learn a lot just by watching the commentary for Jak 3 once you unlock it, like that Seem's animators refer to Seem as female (which ends the gender debate for me at least) and why certain events in the game happened the way they did. It's a good watch, I highly recommend it.
Re: Concepts for a Mar trilogy
Jun 20, 2013
Jak X would certainly stay canon, if TLF is mentioned at all it will be referred to as a movie that starred look-alikes of Jak and Keira and a CGI Daxter. It would have been a flop, turning in only 8 million orbs for its 20 million budget.
Naughty Dog still owns J&D so it would be best if it was them, if the tortch is passed to someone else it would need to be an experienced company that wants to take the franchise in new directions unlike what High Impact did.
As for Gol and Maia, I have another idea.
Personally, if Gol and Maia return I would love to see a little spin-off game of before they went dark. I imagine them having fallen from the sky like Jak and Daxter in Jak 2 (I really like that theme) and landing on some distant shore of a quaint village. The two have amnesia, but are taken in by a Yellow Sage who discovers their powers and helps Gol and Maia learn to control them. outside the village the world is at war as various clans of Eco sages are fighting each other over their beliefs of how Eco should be used, the village in which Gol and Maia live is destroyed by the southern sage clan (the future Marauders) and they set out on a quest to end the war. Their journey brings them on a hunt for a rouge sage who is learning how to master all four forms of eco and can level cities with a single blast of his/her power. Gol and Maia make allies with Samos and a few other sages, chasing after the rouge.
When they find the evil sage, the siblings discover that he/she had been forming a cult of Dark Maker worshippers and gathering artifacts from around the world to send out a signal to the Dark Makers (summoning the ship that will arrive in Jak 3). Against Samos' warnings, Gol and Maia fight the rouge, bringing the entirety of their dark powers to bear. They are victorious, but unknown to them is that the signal has already been sent and the Dark Eco inside them has begun to change their minds, slowly bringing back pieces of their memories and drawing them towards the Dark Eco Silos where their true destiny awaits.
Ehh, it's just a fun little idea I had. It would possibly play like a mix of FF XII and Diablo 2, having some sort of party system in single player but also a co-op mode where one person is Gol and the other Maia (because co-op play is always fun).
There are so many ideas, I don't know why Naughty Dog is stalling, maybe they just want to stick with their strategy of 3-games-plus-a-racing-spin-off. If so, I guess we have Uncharted X: Drake's Raceway and a Last of Us trilogy to look forward to before we ever see another J&D game.
Sigh.