Reply
Topic Options
Mark Topic as New

Mark Topic as Read

Float this Topic for Current User

Bookmark

Subscribe
Highlighted
Sony Santa Monica Working On Next God Of War Installment
27 replies 867 views Edited Nov 1, 2011
Source & Full Story: http://playstationedge.com/ps3/sony-santa-monica-working-on-next-god-of-war-installment/
Sony Santa Monica has begun work on the next God of War project. This is according to a recent job listing posted by the studio early this month.
Santa Monica is currently looking to fill a Senior Staff Concept Artist position for a project only called "God of War".
Join the GOW team! The Santa Monica Studio is an open and creative environment, where we strive to make the best games in the industry. Join us as we embark on our next project.
Overall, the position of Senior Concept Artist is expected to partner with the organization to:
Responsibilities:
Is a contributor to the development of the artistic techniques and processes utilized to define and achieve a product's visual style or encourage artistic evolution within the studio. This entails expanding methods to improve the production pipeline, tools, systems and visual integrity
Maintains the artistic goals and vision through all phases of the game development cycle from pre-production through final product release. This entails ensuring visual development assets are of the highest artistic quality and uphold the integrity of the games design and artistic vision of the game as a whole
Maintain a good knowledge of the games design to facilitate communication and enable early identification of issues
Undertakes research and information gathering prior to the commencement of a new task to ensure game design needs, reference materials, artistic direction and technological considerations are effectively managed to meet defined goals
Facilitates requests or information needs regarding any aspect of the visual development creation process as requested
Capable of resolving a range of complex artistic development issues for both artists as well as other team members
Actively improves skill set and abilities by keeping aware of industry trends and techniques, evaluating competitive products, learning new software packages and traditional art methods...
Source & Full Story: http://playstationedge.com/ps3/sony-santa-monica-working-on-next-god-of-war-installment/
Re: Sony Santa Monica Working On Next God Of War Installment
Nov 1, 2011
StrenghtPower
I Only Post Everything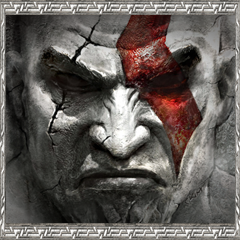 Registered: 07/02/2009
Offline
1293 posts
Re: Sony Santa Monica Working On Next God Of War Installment
Nov 2, 2011
Oh maan! I hope this is true. Well I guess it is (there is proof, lol) but the whole "military/combat" brings me doubts.....

http://www.creativeheads.net/JobDetails.aspx?JobID=10621
Re: Sony Santa Monica Working On Next God Of War Installment
Nov 2, 2011
Goddamn, as afraid as I am they'll be stretching it too far, I cannot wait for this Just for fun, I put together a treatment for the story of the fourth game - I'm putting it here in the vain hope that some developer sees it and rips it off, see what you guys think:
-------
The world has been plunged into chaos and most of humanity is hanging on for survival against the elements. The death of Hades has opened the earth and ferocious beasts from Tartarus itself prey on the survivors. All that sustains those who still live is Hope, released by Kratos at the end of GoW3.
In backstory it is revealed that the reason that Athena was able to appear as a spirit, and the reason for her change of heart regarding Zeus' death... is that she is not really Athena at all, but the titaness Metis, Athena's mother, swallowed by Zeus after the prophecy that she would bear him two children... one of which would surpass his father. (http://en.wikipedia.org/wiki/Metis_(mythology)) The first was Athena. The second, of course, was Kratos, who was raised by Callisto.
Determined to free herself from Zeus' body, she projected her astral form (which naturally resembled her daughter) to Kratos to aid him in killing Zeus, which freed her and almost gave her the power of Hope, however, his last-minute rebellion has forced her to change her tactics.
She is determined to wrest control of the Earth for herself in the power vacuum. Without the power of hope, she will use simple force to do the job... by harnessing the power of the Hecatonchires, the giants that helped win the Great War... monstrous beings with fifty heads and a hundred hands each. http://en.wikipedia.org/wiki/Hecatonchires
The true form of Typhon, also rests beneath Mount Etna, the Olympians' greatest enemy. Mistakenly believed by many to be a mere titan, a deception perpetuated by his mother, Metis intends to free Typhon's true form to lay waste to the world and cleanse it for her rule. Typhon, the last child of Gaia and Tartarus, if freed, would destroy the last chance humanity has of any kind of future.
Very few Olympians still survive, but Artemis, Apollo, Aphrodite and Demeter live, resentful of mortals and warriors, and the destruction they feel came about from their ingratitude and warlike nature, as well as the death of their kin.
In addition, Metis now has the Blade of Olympus. But she has neglected another, now lost weapon of equal or even greater power... the blade that castrated Uranus and brought about the reign of the Titans... the Sickle of Cronos.
A small family of survivors huddles in a windswept cave, rain lashing at the entrance, huddling in fear of the horrors that now roam the desolate, nigh-unlivable world outside. Then, the shape of a warrior carrying a spear and shield appears against the churning sky.
His name is ACHILLES...??
---------
The theme of the game is the birth of the new world and Achilles is the guy to try and save it from Metis taking over and perpetuating the same old cycle of tyranny. Kratos himself is a central theme, his fulfilling of the prophecy, and the mess he's left behind, although he redeemed himself by refusing to give the Power of Hope to Metis. So it's partly the story of Kratos but through Achilles' eyes.
Kratos himself appears as one of the final bosses, not actually as living Kratos, but as Fear Kratos, his evil afterimage harnessed by Metis. You fight him on Typhon's back, as giant snakes from Typhon's body attack you both.
With the earth split open and Tartarus open to the upper world, there's opportunity for all kinds nasty titanic beasts on the quest to get the Sickle. Cue big-ass quest, and many things dying.
Re: Sony Santa Monica Working On Next God Of War Installment
Nov 13, 2011
I'm actually a BIG fan of that storyline Olia! Unfortunately I forsee we will be playing as Kratos again. I'm sure they'll come up with some lame reason he survived...
Treasure Hunter
Registered: 11/25/2011
Offline
4945 posts
Re: Sony Santa Monica Working On Next God Of War Installment
Nov 25, 2011
kb4983 wrote:

I'm actually a BIG fan of that storyline Olia! Unfortunately I forsee we will be playing as Kratos again. I'm sure they'll come up with some lame reason he survived...
Agreed. Although the thought of playing God of War as any character OTHER than Kratos is even MORE unsettling to me! I'm excited to see where they're going with this story... perhaps he'll start fighting Gods from OTHER mythologies? lol
Re: Sony Santa Monica Working On Next God Of War Installment
Jan 3, 2012
I think even a prequel is pushing it. I thought they were going to "put (the franchise) to bed" for a while. If they do make another one this generation, the number "4" should have nothing to do with it!!! God of War was a trilogy and that would completely spoil its worth as one. Kratos would really only work at this point in the franchise if he was "reborn" or something as a higher being or nothing more than a Spartan warrior again. Ultimately though I think he'd be better at this point only as a story backdrop and someone else should take the lead, in a new location/mythology perhaps.
I'd love another 5 God of War games more than any other series, but they need to take things in a new direction (from both story and gameplay perspectives) with whatever they do next. Santa Monica Studios, if you read this I'm sure you'd agree!