Reply
Topic Options
Mark Topic as New

Mark Topic as Read

Float this Topic for Current User

Bookmark

Subscribe
Highlighted
8 replies 914 views Edited Jul 31, 2011
that thinks the Deimos vs. Kratos fight was totally screwed up? I know that the devs were trying to show off Deimos' emmense power but making him beat up Kratos in a lousy fight just doesn't make sense. I am one of the huggest God of War fans in the world and it still puzzles me from a year ago when I beat the game and even to now, how they could let Kratos get beat up like that by someone who shouldn't be able to beat him up.
Kratos is the God of War. He was trained by the God of War Ares himself and has mastered his skills to such a degree that he beat persephone, the hydra, medusa, pandora's guardian, the basilisk, charon, THE GOD OF WAR ARES and so many more- not even counting the people he had to defeat in order to find Deimos.
vs.
Deimos. He is the brother of Kratos, who was never stronger than him even when they were kids. He was captured by Ares at a young age and has been tortured ever since then by the GOD OF DEATH. This means that he never had anywhere near as much training as Kratos and when Kratos fought him, if anything, Deimos' condition shouldn't have been anywhere near strong enough to handle Kratos' blows. Also, why would Thanatos chain him with a guantlet on his hands in the first place? The worst part is that the fight was so simple and if you're really good at god of war (like I am ) then it would be a great shock to you knowing that you dominated the whole battle and then Kratos gets knocked out by getting speared off a cliff by his tortured brother. Simply making Deimos win wouldn't make the fight or Deimos look epic; making the fight a real struggle would have. However, Kratos is still the main guy, so you can't sacrifice making him look like a weeny against someone who shouldn't have beaten him at all, even if you are trying to make that person seem really strong. I mean, Kratos took way more hits (not to mention harder ones) than that and I just don't think they gave justice to his character in that fight.
It's been a year and this fight still annoys me. What do you guys think?
PSN: Honour_In_Skills

Youtube Channel: Dlord1PlayStation

36-3 TDM with 72 Medals: http://www.youtube.com/watch?v=YvvpYACV6hQ
Aug 3, 2011
I agree with you. I loved the game because it was one of the best PSP games I've ever played and even after multiple playthroughs it's still fun to play. However, the story is complete crap if you ask me. I think they should have never even thought up Deimos because the whole thing makes Kratos seem way out of character. He's a badass in every way until GoS. The end kills me every time. Hearing Kratos cry "Deimos!" in such a pitiful way over and over is so out of character for him.
Aug 7, 2011
Yea the whole storyline was horrible. I expected kratos to save Deimos while you had to kill the god of death. And at the end where Athena suicides. What's the point in that!?
Aug 13, 2011
freezeflame: >Athena suicides
What?
rlg: >anime style name shouts
>out of place in GoW
Quite right.
dlord: >good at the game
Is that so?
>Deimos being strong
Silly wasn't it?
>stronger than Kratos
Irritating.
>the fight
It was novel, but frankly...letting us grab rape a boss really does destroy the challenge (reference GoWIII Zeus with regards to air OS application versus the ground/air HC here).
~I never wanted this brother arc
StrenghtPower
I Only Post Everything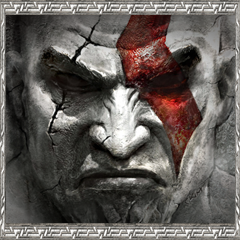 Registered: 07/02/2009
Offline
1293 posts
Feb 7, 2012
Well, hopefully I can make you feel a bit better about this fight. It's qute simple to me, Kratos didn't fight back. He let Deimos win. The story did not make it obvious, but to me there were hints that Kratos did not want to really fight his brother and that he kind of related to the rage that Deimos was feeling at the moment. Yes, it is silly that Deimos' power would even rival Kratos', and more silly that Thanatos would arm Deimos with a gauntlet when he's supposed to be a prisoner, but the fight itself seemed to me that Kratos was holding back. When Deimons had Kratos pinned to the ground, Kratos did nothing before getting pummeled into the ground. Even the trophy unlocked at that time right before Thanatos interferes was called "Let Him Win". Besides, Kratos proved he was the greater warrior by saving Deimos and then beating Thanatos on his own. And if Kratos was as angry fighting Deimos as he was when Thanatos killed his brother, Deimos wouldn't have had a prayer.
I actually really like Ghost of Sparta, despite the fact that I'm not crazy about the brother story either. I'm not even a fan of seeing child Kratos, but the style and imagery was my favorite of the series in fact. I thought the game had the perfect balance of puzzles, platforming, and action. Most of the dialogue was good with memorable lines and moments from Kratos (Is this all a game to you Athena? The gods will pay for this), although some if it was brutally forced (I will not lose you again...Deimos!). I liked seeing Kratos treat his fellow Spartans honorably, and loved seeing him return to Sparta, which I thought was just masterfully done well. The boss fights were cool and the spear and shield were a very nice addition to the gameplay. And although I did not like seeing Kratos' story as a child, I thought it was awesome when Kratos confronted his inner self and bashed his child self through the mirror. Had it just been about a game about Kratos' quest to find the secrets from his mother that would have worked, but Deimos is a lame addition to the story and him being "the other one" just made him feel like the Princess Leia to Kratos' Luke Skywalker.
Overall, I felt it was a nice bridge inbetween the two original games. My biggest beefs with it though are that Deimos actually becomes a canon character, and that considering he is in his full god state, Kratos isn't any more powerful in this game than he is in the others. They really missed some opportunities to have Kratos majestically come from the sky like Ares, destroy Atlantis as a giant, or use some insane powers that he should now have at his disposal. I was disappointed there that he didn't even get too creative when killing Thanatos. He just attacked him like he was still a regular mortal...except with fire blades.