Reply
Topic Options
Mark Topic as New

Mark Topic as Read

Float this Topic for Current User

Bookmark

Subscribe
Jan 16, 2013
wasn't even a friendly trap lol.. I jumped OVER a trap and while I was in the air it lit me on fire and I walked out of it and I went from fully healed to almost brutal kill mode..
I'm seriously starting to hate the reliability of this beta. Seriously, from match to match or even fight to fight you have no idea what's going to happen. I'm not just talking opponent skill but you push one button and 6 different things happen that's not even supposed to happen. kinda getting tired of it.
Jan 16, 2013
Oh, you mean things like:

Okay, he drippled me with that hammer, it always stops now. Nevermind I guess? He just kept hitting.

Why was he in the "Brutal Kill" pose for such a short time?

I'm not even kidding, the last 2 days I've ran into people that were in that pose for about .4 seconds- not even a full second.

I get what you're saying in terms of inconsistency. It's bothering me also. Don't quit on me now though man! I wanna see you on the battlefield in March

Re: Wth traps?
[ Edited ]
Jan 16, 2013
---

I_Ceases_I wrote:


The bottom of my screen says "work in progress", is this showing up for anyone else?

---
Oh yeah? Is that what that says down there I wasn't sure what that said. Thanks for clarifying.
Though it makes me wonder, why oh why if this was a "work in progress" that they didn't release....idk...some form of the game that people could play. Like a VAST number of players. Then said players could possibyl leave some form of feedback that would allow Sony Santa Monica to be able to fix certain aspects of the game and make it better for everyone! THEN, Sony Santa Monica could read through the posts and then encourage people to keep posting the way that they do so they know these problems exist and then can fix them.
Oh well, too bad such a thing doesn't exist. What a crazy idea right?
Thanks for pointing that out though.
stripesmarine
Treasure Hunter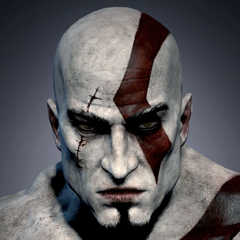 Registered: 01/08/2013
Offline
5591 posts
Jan 16, 2013
@d1v4d Me & You Are Simply Alike !
But I Bet My 53 Olympian Tokens That Goldhawk1 Would Show No Mercy On Our Souls In Combat . Lol
Is That Right Goldhawk1 ?
You Fear No Warrior On The Front Lines ? .Lol
_____________________________
Long, Live, The Shade Legion Σκιά !

TLoU GotY 2013 .