Reply
Topic Options
Mark Topic as New

Mark Topic as Read

Float this Topic for Current User

Bookmark

Subscribe
What is with the hammer combos' inconsistency?
2 replies 708 views Edited Jan 11, 2013
Before the patch, certain combos would ALWAYS work for specific hammers. After the patch, the hammers are unreliable combo wise. I know I am not the only person feeling this, since hammer mainers either switch over to the sword, or just spam the L1 triangle grab.
For example, with the minotaur hammers, the DOT always launched(which it still does), then you could ALWAYS follow with a hold triangle and get a grab in. NOW, half the time the person barely floats off the ground, and the other half, the person is launched high enough and has the halo above their heads, yet when they get hit with the launcher, they seem to block the move and recover. Sometimes they just float too far, while other times they barely move.
The other combo, starting with L1 square, also rarely works. The first square after L1 square barely connects. It is not a matter of timing either...It is just inconsistent. I would also like to wonder why the heavy triangle stun stuns longer for some than others. Sometimes they are stunned long enough to put in a heavy special, and other times they dodge. For that matter, stuns in general are inconsistent. I frequently incorporate the jump O stun into my game, yet, ONCE AGAIN, sometimes it stuns long enough to connect a heavy triangle, yet other times players are able to dodge. This is so frustrating seeing how the sword combos ALWAYS seem to work, yet the hammer combos mess up for reasons unknown.It is bad enough that the sword is quicker, has quicker heavy and launcher moves, beats out hammers in a clash, have specials that can only be blocked, has easier set ups, has more noob-friendly combos, has an unbreakable light attack, and has crazy range, but now the inconsistency in combos make it impossible to counter them.
I would like Santa Monica to please make sure that there is consistency for ALL combos.
SovereignSky
Uncharted Territory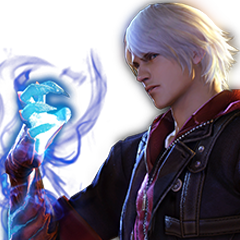 Registered: 12/15/2012
Offline
1499 posts
Re: What is with the hammer combos' inconsistency?
Jan 11, 2013
I know, most people dodge my L1+/\ with Ares hammer after [] [] now, when they couldn't before. This just killed using Ares for me, going back to Zeus but changing to Hades in full game.....
Signature Quote:
I love Leia, especially the way she extends my staff
Re: What is with the hammer combos' inconsistency?
Jan 11, 2013
I think it's just lag. A lot of people are regaining control during my combos, including after launchers; some aren't even flinching after two hits as they pull off a slow [L1 + Triangle].