Reply
Topic Options
Mark Topic as New

Mark Topic as Read

Float this Topic for Current User

Bookmark

Subscribe
Highlighted
Please change the QTE PROMPTS!
16 replies 1031 views Edited Jan 22, 2013
They were much better in God of War 3 and here everything is weird and not very noticeable. Something will happen and I'll randomly see an X on the bottom of the screen for a split second or a left and right arrow and it's confusing.
The prompts are always antiqued yellow and they blend in too much with the background. Frankly they look bad.
God of War 3 was much better with button prompts and now with the red halo and all these changes I think it's worse and definitely not better.
You want these things to be blaringly noticeable especially when it's something you need to save yourself. That just isn't the case and you end up dead because of it.
stripesmarine
Treasure Hunter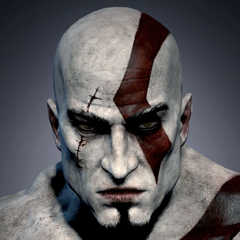 Registered: 01/08/2013
Offline
5591 posts
Re: Please change the QTE PROMPTS!
[ Edited ]
Jan 24, 2013
@SILVERX200 I Find The Quick Time Events To Be 'Lost' In The Heat Of Battle A Lot, Might Just Be Me .Lol
The White Line On Top Of A Foe To Execute A Grapple Is Not Powerful Enough To Catch The Eye Of The Player A Lot Of Times .
But I Also Accept The New Prompts, And In Time You May Grow To Like It As Well ?
It Would Be Nice To 'Alter' How Certain Functions Look And React, By The Buttons We Choose To Select In The Options Menu .
If Anything, We Might Just Forget About All This When The Final MP Releases On 3-12-13 ! ; )
_____________________________
Long, Live, The Shade Legion Σκιά !

TLoU GotY 2013 .

Re: Please change the QTE PROMPTS!
Jan 24, 2013
I don't like the yellow button prompts either, it was much better how it was in God of War 3.
As for the red halo, I prefer it equally to the circle prompt in God of War 3.
Also, if you check out gameplay of the E3 demo on youtube, all the stuff on the top left (health, mana etc) looks very different, in a bad way..
Re: Please change the QTE PROMPTS!
Jan 24, 2013
I think the prompts were at their best in God of War 3 because they were intuitive. (I always hated the quarter circle moves and the analog prompts though.)
The prompts in multiplayer were very easily missed, and I especially hate the left and right arrows which are barely noticeable when you're in a stun state. It also destroys controllers the more QTE is used.
The red arc (It's not even a halo) is ok but it's such a change from the past games that is almost seems out of place. The white arc (It's still not a halo) disappears quickly and I rarely get a chance to grapple someone with one because it never seems to connect.
I can jump in the air without a white "halo" and someone easily grapples me. Inconsistency at it's best.
The plain yellow QTE prompts are not very appealing either, and yes they do blend into the background or the heat of battle. Countless times I don't even see a prompt for a milisecond and probably fail it.
It's bad enough that you can't even tell who your character is when you're fighting around other players as everything blends together. Adding QTE prompts on top of that makes it worse.
Just-Tank, please add more detail and vibrancy to the prompts and get rid of the awful yellow look.
Re: Please change the QTE PROMPTS!
Feb 27, 2013
Re-Bumping this because it also needs attention in GoW:Ascension single-player (demo). I suggest you make the QTEs VERY NOTICEABLE button prompts that GIVE THE PLAYER SUFFICIENT TIME to activate the final blow to the opponent, without the need for further button inputs. (Yes, a single button input that initiates the final kill sequence, without the need for further button inputs - no multiple-button input sequences.) If a player desires to fight more with the opponent, fine, they can ignore the button input and continue fighting until the game offers the button input again. But, seriously, QTEs have never been fun and detract from the fun of playing/fighting. As tests of a player's reflex speed and button selection prowess, QTEs also alienate me because I have a limited amount of time to play each week and consider it an insult to have to repeat the same sequence over and over just because at night my reflexes/mind are not operating at full potential. Given that at that point I have successfully drained the life from my opponent, giving the final blow to me with a single button input seems fair. I was really looking forward to GoW:Ascension, but after that first QTE that brought back memories of QTE woes of previous games, I think I'll have to pass if this isn't changed; I don't play for the frustration.
Re: Please change the QTE PROMPTS!
Feb 27, 2013