Reply
Topic Options
Mark Topic as New

Mark Topic as Read

Float this Topic for Current User

Bookmark

Subscribe
Highlighted
53 replies 2479 views Edited Jun 2, 2013
I recently had a brilliant Idea for a new GoW game that i really want to share, and everyone else, feel free to give your own ideas (I guess that's the point of a forum, obviously, but anyway). So this would basically be a different perspective of Kratos: that he goes to Valhalla somewhere in Scandinavia when he dies. (An explaination might be that Odin felt sorry for him and his family and brought his body /spirit to Valhalla so that he'd fight for him at Ragnorok.) I know that the developers would probably change this story if they even used this idea, but this next thing would still be freaking boss: Kratos, angered that Odin won't let him see his family until he swears an oath, attacks him, but Loki, having a "better" plan, stops him (The better plan being what he does in the Norse prophecy of Ragnorok). Kratos, being seen now as an "Untrustworthy Greek", is locked with Fenrir's chains. Odin makes a deal with Kratos that if he kills Fenrir, who recently escaped his chains, he will be made an immortal again, and might see his family. Kratos, now seeing the possibility for a better future for himself, decides to set out to kill Fenrir. I assume the developers would make the rest of the story, but I'm just eager for a Norse Kratos, maybe even with Thor's hammer.
If anyone likes this idea, please help get it into a GoW game, or if you have another idea you'd like to share, maybe similar to this, go ahead and comment if possible. And as I said: WE MUST HAVE NORSE KRATOS WITH THOR'S HAMMER!
I'm thinking the title would be "God of War: Tyr's Bane" because of Fenrir, "God of War: Valhalla" because of the place, or just "God of War IV" or whatever they choose. Just give me a new GoW game with a different mythology!
Jun 2, 2013
It should be roman mytholgy and kratos would be thinking why are all the gods alive and the gods all fear him because all of humanity prays to him for bringing hope into the world but instead of being the roman gods like jupiter they are primordials toying with him but athena is actually the main antaganist of the whole thing and kratos would ultimately truly end the era of greek gods
Ares4Ever
Sep 19, 2013
My idea is a new prequel for the PlayStation 4 of Kratos being the Spartan General. Wouldn't you guys want to be the one to lead an army of Spartans into to battle of thousands of Barbarians? Be the one who calls for Ares aid being nearly beaten? Be the one (not that's a good thing) be the one who murders his family?
Sep 19, 2013
One prequel to rule them all, and in the darkness bind them.
God of War: Cervical Spartan
Opening scene - You're floating around in some seminal fluid with millions of your rivals. Slaughter them with tail-whips until the race begins! QTE your way through the vas deferens, cervix, and finally experience open-world gameplay as the world opens up into a free-roaming uterus!
Don't dawdle too long though, as the first to reach the egg will attain sentience. Bust through the hard outer shell of the ovum and claim your prize as the Spermatozoa of War!
What's this? The egg is splitting!
Engage in an epic clone battle on a never before dreamed of scale as fetus fights fetus! Use all the moves available to your Umbilical Cord of Chaos to snatch victory from your fetal foes and claim the placental rewards as your own!
Alternate Endings! Emerge from the womb via the natural method, or unlock the secret K-section ending to burst forth from the uterus in typical Kratosian style!
Fender Bender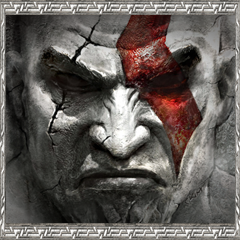 Registered: 03/25/2010
Offline
2926 posts
Sep 20, 2013
@Proton - Sounds like a good idea to me. I'd also like to see him get involved with Norse myth (among others) at some point.
@Polo - Roman myth is just a rip-off of Greek, it would be a bit pointless fighting gods that were basically the same with different names.
@Wulf - Good idea for a spoof prequel. Maybe he could spar with Deimos in the womb.
_________________________
The gods overestimate themselves.
Hekseville Citizen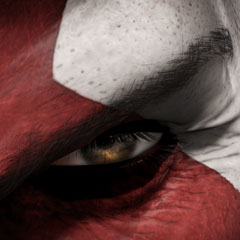 Registered: 03/05/2013
Offline
247 posts