Reply
Topic Options
Mark Topic as New

Mark Topic as Read

Float this Topic for Current User

Bookmark

Subscribe
Highlighted
6 replies 1154 views Edited Jun 14, 2012
Just saw this video and @ 5:30 he says Kratos is not a demigod, which has me very confused. What about that video that shows Kratos finding out that Zeus was his father in GoW1? What about Athena telling Kratos that Zeus was his father at the end of GoW II? What about Kratos calling Zeus his father in GoW III?!! WTF?!!

http://www.gametrailers.com/video/e3-2012-god-of-war/731435
Re: Kratos is NOT a demigod
Jun 14, 2012
Kratos is and will always be a demi god, no matter what. You can't take that away from him...
But what they are trying to do is give him the appearance that he's just a mortal man, and he doesn't have al the crazy powers he had before.
This story sounds like they are trying to "test" him, if he was considered a demi god the it'd make it all really lame, he wouldn't seem as weak or as vulnerable.
Re: Kratos is NOT a demigod
Jun 14, 2012
That some clown needs a backhand changes nothing. Part mortal. Part deity. Demi-god by rights. He is already as dangerous or more so than the lot of the others. Hercules would be the only real problem (if he has his Nemean gifts already). Of course, with me at the helm, he would die like a dog.
He's simply more 'humane' than in the past. More reverent of the life of the common mortal. As if to spite his master and suit his new one...but it will not last.
Re: Kratos is NOT a demigod
Jun 15, 2012
Well I asked Todd Papy and I guess I just misinterpreted it, the way he said it in the video was just a bit vague.
https://twitter.com/ToddPapy/status/213490758672596993
Re: Kratos is NOT a demigod
Jun 15, 2012
You didn't misinterpret it, because I'm pretty sure todd pappy himself said he wasn't a demi god in the 1 hour "god of war live event" video on the PSN.
Either way, like papy said this time.. he was born that way, can't change that.
Fender Bender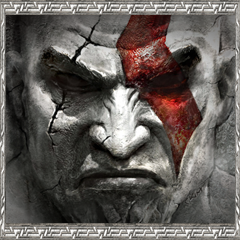 Registered: 03/25/2010
Offline
2926 posts
Re: Kratos is NOT a demigod
Jun 16, 2012
According to the story, technically, he was born a demigod (as was Deimos, who was supposed to be his fraternal twin), became a full god (either at the end of the first game when he took Ares throne or the end of GoS when Athena gave him more power) and then was stripped of all godhood and made completely mortal (beginning of the second game), but still retained the power of hope from Pandora's Box. He never showed any powers of his own. Every power he ever showed was given to him by the gods/titans or linked to an item/object. He was also unaware that he was born a demigod until either the beginning of GoS (when his mother, Callisto told him) or the end of the second game (when Athena told him). Obviously, GoS created some continuity problems.
Interesting side note that never seems to get brought up is that Calliope would have been 1/4 god. Kratos and Deimos' relation to the gods and by extension, the titans, doesn't seem to come up either with anyone but Zeus, Hera, Hercules and Athena but it's interesting to consider the relations. Hermes made some comments but failed to mention that he was also a son of Zeus and Kratos' half-brother. With all the inbreeding, some were related in more ways than one. Persephone for example was his aunt/half-sister/cousin, being the wife of Hades (his uncle) and the daughter of Zeus (his father) and Demeter (his aunt).
_________________________
The gods overestimate themselves.