Reply
Topic Options
Mark Topic as New

Mark Topic as Read

Float this Topic for Current User

Bookmark

Subscribe
Re: Kill totals Kill streak curiosity
Re: Kill totals Kill streak curiosity
I'm sure people are sick of hearing this but I am just maxing out all my God allegiances and the weapons I don't like to use. I don't play many Match of Champions, total is 16 right now with 5 wins, 2 second places and 4 third places.
Highest Killstreak for me was 13 in a Favor of the Gods match, that match I went 14-1 which is my highest killcount as well.
Did manage another 11 killstreak yesterday in an 8 man Match of Champions with my beefy Poseidon dude and won THAT one by more than double 2nd places score. Funny note about that I was a level 28 Poseidon with the Maul of Poseidon against, I kid you not SEVEN ARES WARRIORS lol I'm not saying Poseidon > Ares here, I am actually thinking it had more to do with people wanting their beefy attack power and not knowing how to deal with someone who survives their normally powerful combos
I did end up 11-0 there. Had to grab those Altars too
My AVERAGE KDR in Team Favor is like 7-4 I'd say. Not bad for saving my best armor/weapons for last! I do better with hammers. That's just period. WHen I was maining Ares, I averaged like 9-3 and did that consistently, again in Team Favor. I am now on Hades, working toward level 30 and I may stick with him until all of his weapons/armor are maxed out, back to Zeus, then Poseidon, and finally back to Ares to recapture my freight train status...yall better watch out for me when I get back to Ares. Dat's muh cerberus right thurr!
Poseidon4ever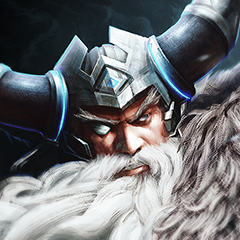 Offline