Reply
Topic Options
Mark Topic as New

Mark Topic as Read

Float this Topic for Current User

Bookmark

Subscribe
Highlighted
Kill totals Kill streak curiosity
23 replies 249 views Edited Mar 21, 2013
I am curious to how some beast players are doing in matches and people in general.
How many kills do you get on average?
What is your highest killstreak?
What is the most kills you have gotten?
What is your most glorious outnumbered victory? ex: you vs 2 you vs 3 you vs 4 whatever.
if you can think of anything to brag about please post up!!! i want to know !
I get about 6-10 kills on average
my ghighest killstreak being 11
2o kills being the most kills i have gotten
me vs 2 1/2 is mine because one guy had almost no health lol. so maybe even 2 1/3 lol
BRAG IT UP PEOPLE!!! no trollin me please you can not hurt me or **bleep** me off so just dont be a **bleep**.
I would brag about objectives but I dont play objectives lol. I got for fights and kills.
Re: Kill totals Kill streak curiosity
[ Edited ]
Mar 21, 2013
I actually don't know what my average score is, since I always look away when the results pop up (I get distracted), but I've had 2 pretty sweet moments.

1 was near the beginning of this week, I believe. Me and one teammate held off all 4 enemies while the others got the 2 posts we needed. The other one just happened yesterday night, actually. We were playing CTF and all 4 guys were focused on me while my teammates got the Bonus Flag and simply walked back to our flag. I ended up killing 3 of them and the last one ran.

Re: Kill totals Kill streak curiosity
Mar 21, 2013
haha oohh nice! were you using Zeus. I am realizing that zeus is really good at crowd control and killing multiples at a times. Although hades was my first 30 and my favorite Zeus's power is nutssss. rack up and drop 2 thunderstorms. whole room is dead lol. l
Uncharted Territory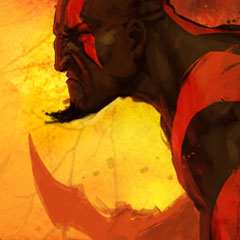 Registered: 01/16/2013
Offline
1497 posts
Re: Kill totals Kill streak curiosity
Mar 21, 2013
Wish I could play some of the top guys on this board. Without sounding cocky I'd like to I do very well. I place first over 90 percent of the time in FFA. Always get double digit kills.
I've owned a couple of friends who have tried to gang up on me.
Funniest moment was when I beat a level 30 Ares with my own in a 1v1 after people had left. We played again in 1v1 straight after and this time he wore the exact same armour and weapon as me. I was winning 1850 to 250 when he just stood still and did nothing. I get a msg asking why am I winning so badly when we have the same setup, level, and allegiance.
Lol.