Reply
Topic Options
Mark Topic as New

Mark Topic as Read

Float this Topic for Current User

Bookmark

Subscribe
Highlighted
Good Zeus build?
[ Edited ]
5 replies 2707 views Edited Dec 19, 2012
So, I'm just starting as Zeus. Right now I have full athena armor on with the athena blade...and I'm wondering what would be a good set to use for Zeus. I'm working on using magic a LOT along with a little melee.
I'm not sure what magic damage does (I know magic helps with spells, but what about the blue sword stat?) but I feel I should have a lot of it.
Also, I think lightning storm and reckoning of zeus are bugged. It says I have reckoning of zeus but I think I'm actually using lightning storm.
Dec 19, 2012
Yes those two spells are swapped.
Good build includes a few pieces of Skorpion, Zeus hammer or BoA. The 50% magic on death is a good one coupled with ambrosia chalice. The invuln item looks awesome. It's not. The teleport can be fun though.
Oh, if you're a treasure hunter & using BoA go with the Harmony relic. Should provide magic regen for your crew
Dec 19, 2012
I wish the sage armor looked better my god that stuff looks bad lol, because it's the polar opposite of glad and that's what I love to use.
why skorpion? I was going to try and stack elemental power or magic but I can't get any magic and not sure if elemental power helps any or not.
Lombax Warrior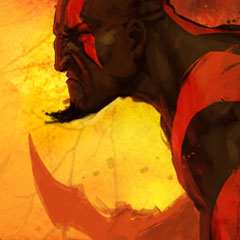 Registered: 08/10/2009
Offline
127 posts
Dec 19, 2012
---

Viddik wrote:
The CD reduction from a few pieces of Skorpion can be abusive when playing Zeus. Near constant spamming possible of Zeus' Hammer specials. Brutal.

---
Even without any Skorpian armor the cooldown is still pretty fast. I'm using the Gladiator helmet, Morpheus torso, Zeus leg armor, and Hammer of Zeus and it's crazy good. With Relic of Prosperity I can refill my magic every 2 chests since the minigame isn't that hard and then I run around picking up the "homerun bat" hammer and spamming Lightning Storm (Reckoning of Zeus).
Went 15 and 3 last game with my team down 1 player and 11 and 0 before that in Team Favor.
Dec 20, 2012
I kind of gave up on zeus for now. I might come back later...but the attacks didn't seem to help much. I had full zeus suit on with a zeus hammer and people evaded out of my magic and my attacks seemed hella weak.
I could barely land L1 + square and the one time I did the guy attacked me through it so it was pretty pointless. L1 + triangle was really useful but you can't grapple off of it. a lot of weapons seem to do that. You'll be able to launch them up and have a halo over them but if you use R1 it'll fail.