Reply
Topic Options
Mark Topic as New

Mark Topic as Read

Float this Topic to the Top

Bookmark

Subscribe
Highlighted
Grappling the Sword of Hades
11 replies 261 views Edited Mar 29, 2013
Hello Warriors, as most of you know the Sword of Hades has a special attack that the player slips underground & pops back up..similar to the Wraith enemy from single player & Co-op...
Now would it not make sense to add the ability to grapple the player from underground & slam them multiple times just like you do with the Wraith?
Re: Grappling the Sword of Hades
Mar 29, 2013
well...that would f u c k u p the balance and would render the sword useless,dont you think? it does not seem fair nor balanced if they make one god and one weapon to have some special treatment...i agree that would be cool move but the bottom line is it would be useless and noone would use it because you would constantly be vulnerable to attack...i dont like the weapon i think its crap to be honest and very predictable i have no issue to that weapon even if multiple Hades dudes try to gank me,well no more then 2...but thats the bottom line because stonecold said so.
Re: Grappling the Sword of Hades
[ Edited ]
Mar 29, 2013
I don't think it would render the sword useless...not a lot of warriors have good reaction Time & know when & when not to grapple... the attack itself is very quick so you would need some good reflexes....some players reactions to that attack is to Dodge or jump not grapple. ..Especially beginners...
Re: Grappling the Sword of Hades
Mar 29, 2013
Well,is it not part of the point? to learn and get familiar with the system so you can develop your reflex and reaction times and also muscle memory.yeah sometimes i get caught to the blades moves,but damage output on that move is not so high that it would kill because i think its safe to say that 95% of the users start with L+square and then L+triangle.i usually count in my head...1...2 and then i dodge works for me atleast. it seems this is the most discussed sword/weapon all time...but like a said i dont have a problem with that sword...why? because so many use it that i have adapted the mechanics+i play Hades aswell too,my sword is not even level 3...
Re: Grappling the Sword of Hades
Mar 29, 2013
I did not say that you would have problem.but have you thought the overall picture of it? it still does not seem fair in my opinion that one weapon has extra flav...how about other weapons? should they have also "flav" that you could grapple them? or would you just limit to Hades sword? this is constuctive conversation
Re: Grappling the Sword of Hades
Mar 29, 2013
Speaking of this multiple slam grappling, I seen someone doing this, like when Kratos grabs a stunned wraith or siren. Is it a weapon that allowed that person to do that? I know he was a Hades warrior.
Re: Grappling the Sword of Hades
Mar 29, 2013
Treasure Hunter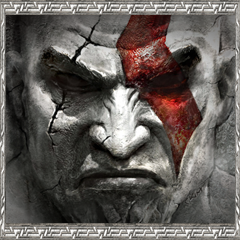 Registered: 01/22/2009
Offline
5907 posts
Re: Grappling the Sword of Hades
[ Edited ]
Mar 29, 2013
You are confusing it to blades of chaos or should i say your grappling weapon.when you have rage mode on and someone dodges and you grapple you make that heavy slam moves multiple times.
you come out like a helicopter when pressing triangle and if you hit enemy he flyes too and you can grapple.
Okey...extra flav then...well thats kinda tricky to other weapons? ok lets say it would be only limited to L+triangle moves...i actually dont come up any ideas,i have to think about it and test the other weapons special moves...