Reply
Topic Options
Mark Topic as New

Mark Topic as Read

Float this Topic to the Top

Bookmark

Subscribe
Highlighted
Some Constructive Rambling
[ Edited ]
11 replies 566 views Edited Mar 18, 2013
Hey all,
I've got a few tidbits that I need to get out of my head and onto the internet. I haven't played the multiplayer yet so this'll just be about the singleplayer.
The Good:
Fan-flippin-tastic graphics!

Varied environments. I felt like I truly adventured a long way in this game.

The interactive mini-game kills that require dodging
Rage Meter. It makes the game harder and it's a cool new dynamic but*...
The 'R1' leash-grab thingamajig. It's a lot of fun to beat on a bunch of baddies while having another flunky in tow. Also, chucking them around is fun.
The secondary weapons. They add some much needed vareity to the limited amount of 'moves' you can perform while not having a full rage meter. Also, discarding the weapons is a blast.
Smashing crates was a needed addition. However, I don't know why the devs decided to make the tops of the smashable crates out of some sort of glass... They should be normal tops, and Kratos should backhand the shiz out of them to knock the tops off.
The Bad:
Goes without saying that the glitches in the game should've been combed out before release. I only encountered one though so i'm not that miffed about it.

The red

or

white 'R1' indicators that hover over stunned/crippled enemies. They take away all the suspense because I know ahead of time whether or not to expect a death blow. Completely ruins the action

*Rage Meter. I just don't think it fits with the GoW franchise. Especially since the L3+R3 move should make you feel

incredibly

powerful and it does the opposite. I never use that move because every other move is better.

Lack of varied 'moves'. This carries on from the previous point. If I don't have a full rage meter, I find myself only using a single move. Actually, now that I think about Square+Square+Triangle is practically the only viable move in the entire game...

Where dat parrying at?

Magic variation requires dumping a lot of points into one of the elements. Not cool.

The audio... Where is the epic music?! Where is the chorus of 'KRATOS!' after an epic action sequence? Not to mention I feel like a lot of sound effects are just plain missing. Lever grating noises, doors slamming closed... I can barely hear them.
That's about all I can think of for now. To summarize, there was a lot of trial and error in this game. Overall I think it was worth it, because for the next installment Santa Monica can scrap the stuff that didn't work and keep the stuff that did. I enjoyed the campaign and I think this game was a success. The devs just need to touch up the audio and continue combing out the glitches.
Re: Some Constructive Rambling
Mar 18, 2013
---

vitorbellini wrote:


Agreed too. Too many glitches in this game. Its surprising how they let it happened... hope that fix it soon.

---
Yeah, I'm replaying it on Hard and the pillar that is supposed to break in the Village of Kirra has glitched out on me. No prompt to do anything nor can I break it with attacks. Gonna have to restart the chapter.
Re: Some Constructive Rambling
[ Edited ]
Mar 18, 2013



---

BlamelessBoo wrote:


Yeah, I'm replaying it on Hard and the pillar that is supposed to break in the Village of Kirra has glitched out on me. No prompt to do anything nor can I break it with attacks. Gonna have to restart the chapter.

---

That's the one glitch that I encountered. There's supposed to be a cutscene that pans over to the column and shows the glowing prompt. For whatever reason, that doesn't play sometimes and therefore the prompt doesn't exist.
Re: Some Constructive Rambling
Mar 27, 2013
>promptless mini-games
They were too simple. An idea with potential. Poor execution.
>rage
Trash.
>Tether
Having it as a special to unlock would be better. Leave the grab to regular OS and OH (keeping the old system with alt.OH and grab select). Have HC for mount with grab select. Tether as a special for its own options. As is, we have less options and Tether has bad synergy with World Interact (picking up junk, using chests, pulling/pushing objects/levers, etc.). Very bad. This besides grab targeting issues that have been a serious issues since GoWIII.
>WWs
They're underdeveloped, poorly realized, etc. Not even fit as tertiary tools for the most part while we lack secondary weapons to go with the Blades (our primary).
>EXP chests
Yeah, sure. Whatever.
>the glitches
More than usual. More obvious, more common and not 'good' glitches.
>halo
>wanting no indication
An option to turn it off would be as welcome as an option to turn on HP bars over their damned heads. Stun states were a failure as a system. Not having instant kill grabs for the lowest of trash (Harpies, Manticore Spawn, Satyr Grunts, etc. at the cost of EXP) was a bad mistake. Making most grab cases extremely weak was also in very poor taste for a series where grabs are a sort of a big deal as was the easy of evading and parrying with a super state (rage) *that is no longer 'super'*.
>every move is better
In defense of the rage dump, Soul's version is very good. The rest are pretty much garbage. Fire's 'stun' isn't so hot as the first demo's case that just instant killed a target, turned them to an HP chest and damaged those near the blast. THAT was worthy of using up all the rage at MAX level upgrades.
>s,s,t
You say that like non-rage t0 (Plume) even has a heavy hit stun, the same damage as in past entries or a bounce property to help control and set-up foes. It doesn't. It too has been neutered. t3 (Spirit) can't even be accessed at lvl1. You need lvl3+...and rage.
>parry
Ridiculous change. The first demo had it right with the GoW1 system.
>magic variation
Even if you MAX other spells, Electric, Soul and Fire aren't terribly different. Ice just does nothing thanks to the mechanic being even worse than GoS (worse than GoWIII).
>audio issues
All very well covered ground.
>all you can think of for now
By all means, note more when you can.
>worth it
Not especially.
>can learn their lessons
They won't. They got rid of much of what GoWIII and GoS did right and kept what they did wrong. They are clearly not aware of what is good or bad at this point. They can't hope to match GoWII much less exceed it. They're totally lost. MP will keep them in that state.
Uncharted Territory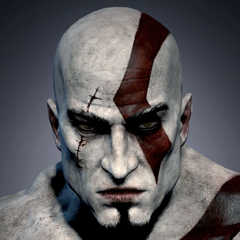 Registered: 03/18/2013
Offline
1944 posts
Re: Some Constructive Rambling
[ Edited ]
Mar 27, 2013
I also quite agree with this.
The graphics are amazing, better than GoW3s. It felt more like GoW1 and 2 with its adventuring. The promptless mini-games are very fun. Love the rage meter, but the R3+L3 wasnt that great as well, I usually use it when i know im going to lose my rage or to stun multiple enemies. The tether system was very nice and fun to use. I did like the world weapons, i didnt use them as much on the harder difficulties except to stun enemies, but they are quite fun and sometimes useful. Smashing chests were great and i do to wanted to know why they used crystals instead of normal looking chests. I also wished they could have done it with the health and magic chests too, but whatever.
I had some bugs and glitches, but not game breaking like other ppl have and sadly i lost some respect on SSM for realeasing a bugged out game, even though its still great imo. They could just have done the white and red halo with the normal enemies not bosses, with bosses it did lose the suspense. I was never really bothered with the lack of moves, but its an understandable complaint. The parrying wasnt that good, but I got use to it. The magics were alright, they seemed the same like the ones on GoW3, all wide spreading. But poseidons magic was quite useless cuz u cant even kill an enemy when they are frozen. Actually i did love the soundtrack, but u can rarely even hear it in game, so it loses some of the epicness, and I was never actually bothered by the audio problems but it will be nice if they fixed it.
Re: Some Constructive Rambling
[ Edited ]
Mar 28, 2013
You people know nothing about glitches.
Try Just Cause 2 or GTA IV. F$#K try BATTLEFIELD 3. Guy jumping out of JET in mid air, RPG enemy JET and jumps back to his JET, or you hit a tree and you fly away with it, vehicles randomly spinning in the air (empty), "periscope glitch on Metro or wall glitch not to mention head glitch which everyone is using
OH
and I also miss a sex minigame

[url=http://www.yourgamercards.net/profile/Carrioner/][img]http://www.yourgamercards.net/trophy/a/Carrioner.png[/img][/url]